Von Doughnuts has recently opened on the Danforth (713 to be exact) and of course I had to go visit after my workout! Life is all about "balance" – right?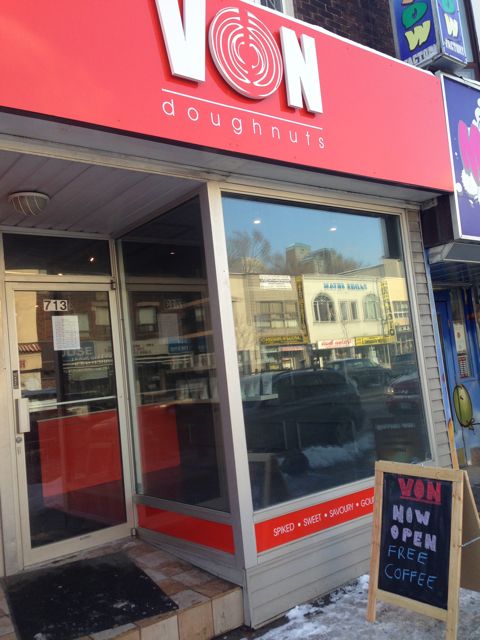 There are two types of doughnuts: Raised and Cake.  Plus there are a few varieties that are spiked, and some that are savoury. All I can say is "BRING IT ON".
Here are some examples of their flavours:
Peanut Butter Jelly Time, The Sappy Pig, Chica Cherry Cola, Drunken Night, Curry Coconut etc. I counted 22 flavours on their printed menu but not all of them are available at the counter. I can see myself checking them out in future on Facebook so I can make sure that the flavour I want is available!
This morning, I tried a few! (does this surprise you?). Top Left: Dill-Dough, Bottom Left: Caramel Salt N Pepa, Top Right: Porky Monkey , Bottom Right: Cap 'N Jack. Clearly someone has a sense of humour when naming these doughnuts.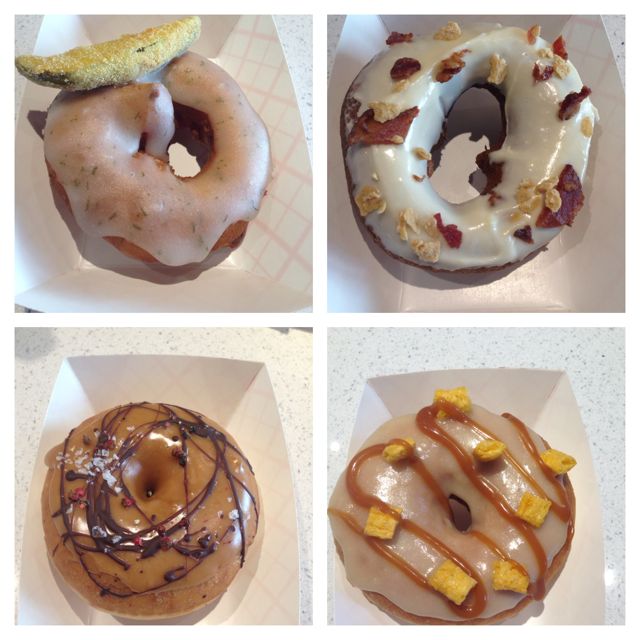 Verdict: I love the flavour profiles and I love the fact that there's two different types of doughnuts (cake and raised). My favourite was the Caramel Salt N Peppa. They were all excellent though and I look forward to trying more in the future. This is definitely a place that would be ideal for a tweet up so we could share a whole bunch of flavours. What do you think?
For more info:
Von Doughnuts, 713 Danforth Ave, Toronto ON 416 901 VOND (8663)
Twitter: @vondoughnuts
Facebook: www.facebook.com/vondoughnuts