Did you know that October is World Egg Month! Too get me "egg-cited"  about this event, the Egg Farmers of Ontario "cre-egg-ted" a challenge to put my own spin on making some devilled eggs. They provided me with a beautiful basket of goodies and as always I went on the internet searching for an unusual Devilled Egg recipe. Finally after a lot of clicking I found this recipe.
Naturally I didn't follow the exact recipe (one day I will learn..LOL). To be super honest – I forgot to make the green onion oil HOWEVER I certainly enjoyed the end results. (as always).
The recipe is taken from the a website called: www.Momofukufor2.com
Green Onion Oil Devilled Egg Recipe:
INGREDIENTS:
4 hard boiled eggs, peeled, chilled and cut in half
1/2 bunch of green onions, thinly sliced (about 3/4 to 1 cup)
1 clove of garlic, minced
1 small shallot, minced
1 small knob of ginger, minced
2 tablespoons canola oil
2 teaspoons sesame oil
salt and pepper to taste
sriracha (optional)
Make the green onion oil by heating up the canola oil in a small pot over high heat. When the oil is shimmery and hot, add the green onions, garlic, shallot, and ginger. Be careful, the water content will cause the oil to bubble. Remove the pot from the heat and stir in the sesame oil. Salt to taste.
Remove the yolks from the eggs and place in a bowl. Mash with a fork until the yolks are crumbly. Add 1-2 tablespoons of the green onion oil. Stir and taste.
If you need more green onion oil in there, by all means, add it! Fill your egg halves and top with freshly ground pepper and a squirt of sriracha, if using. Enjoy!
FINAL RESULT: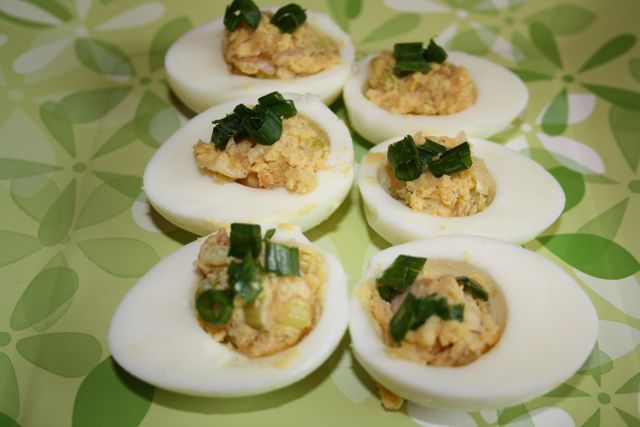 Thanks to the Egg Farmers of Ontario, I'm now the proud owner of this FREAKIN" GENIUS egg storage container by Rubbermaid. Why have I not owned one of these before?
Happy World Egg Month!!