I've just returned from visiting a new pizza restaurant that has opened up at 386 Bloor St West. It's called Famoso Neapolitan Pizzeria and I have a good feeling that they are going to get a lot of love in Toronto.
They are already a hit in Western Canada and they now have two locations here in Toronto (their first location is in the new Food Court at Yorkdale Shopping Centre).
I immediately liked  this blackboard  that you see when you walk in: (I am a sucker for clever marketing)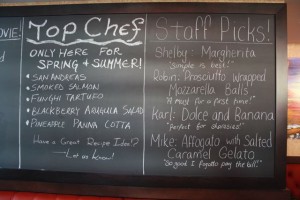 I am on a carb free diet so I was "good" and didn't touch the pizza (sorry Famoso Pizzeria) but I certainly did enjoy the Gorgonzola Walnut Salad. It was exactly what I needed and the full size salad hit the spot ($12.50).
I did however take a photo of their famous (and popular) Margherita Pizza. I mean who wouldn' t want to dig into this?
What really grabbed my attention was the Nutella pizza. They take their authentic pizza crust and smother it in Nutella. I mean, seriously, could life get any better?
If you want to end your meal with something "lighter" – then try their authentic artisan-style gelato, which is handcrafted in small batches and has low levels of butterfat (4-6%) and made with no preservatives. Famoso Pizzeria has partnered with Fiasco Artisan Gelato and in my humble opinion, it's a perfect match!!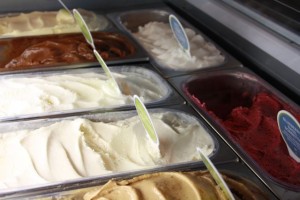 I gravitated towards A SAMPLE of the blueberry basil (Wild BC blueberries macerated in fresh basil and cane sugar). …however other flavours include: salted caramel, burn sugar banana choccolate, zesty lemon and more!!
My carb free diet did not interfere with the opportunity to have a great meal at Famoso Neapolitan Pizzeria. There is something for everyone!!
Famoso Neapolitan Pizzeria:
1. Yorkdale Shopping Centre (full service restaurant in their new food court).
2. 386 Bloor St. West.
657-748-23333
@FamosoPizzeria
Hours: Sunday to Wednesday 11 a.m to 11 p.m, Thursday to Sunday 11 am to midnite
ps vegetarian friendly: Daiya Vegan cheese is available as a substitution for mozzarella at no extra cost