Fact: I subscribe to the Toronto Star only so I can read the food section. Therefore, Wednesday is my favorite day to receive the Toronto Star. I read a variety of articless and recipes from Jennifer Bain, Josh Rubin, Amy Pataki on a regular basis.  I am truly interested to know what they are eating, cooking, buying, etc. I know I could look it up online but that's a whole other discussion!!
The "Star Tested" recipes are always reliable and I have clipped out many of them over the years. Infact I am still clipping them out (so old fashioned – can you believe?)
Last week there was an article that caught my attention, which was written by food editor Jennifer Bain and food writer Eric Vellend.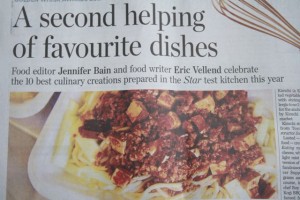 Seeing as it was the holidays and I had some spare time on my hand – I decided to to try this simple soup which comes from the chef/owner of Martin Kouprie from Pangaea and is in his new cookbook: Pangaea. Why It Tastes So Good.
Parsnip and Lemon Soup:
This is what you need: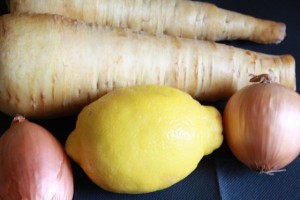 INGREDIENTS
1 tablespoon butter
1/2 cup diced Spanish onion (I used normal onions)
2 cups peeled, diced parsnips
4 cups chicken stock, vegetable stock or water (I used water)
1 tablespoon finely grated lemon zest (from 2 lemons)
3/4 tsp sea salt (to taste)
METHOD:
1. In a large saucepan over medium heat, melt butter until it foams.
2. Add onions. Cook stirring, 3 minutes to soften.
3. Add parsnips, stock (or water). Raise the heat to high and bring to a boil.
4. Add zest.
5. Reduce heat to medium and simmer 15 minutes till parsnips are tender.
6. Remove from heat and cool slightly.
7. In a food processor puree soup. (I puree solids first and then slowly add liquids till its smooth)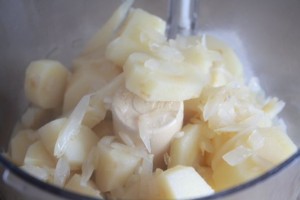 END RESULT:
A creamy delicious healthy simple soup! What more could you ask for?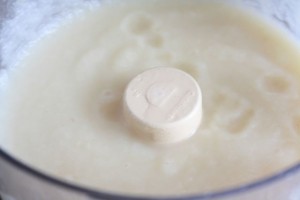 Happy Cooking!!
p.s for some reason I think this soup needs a herb, but I haven't figured out which one? Suggestions are welcome.