Thought I might jot down some "reflections" regarding 2010. I'm a pretty positive person so naturally I only think of the "GOOD TIMES'.
I even have a napkin that reflects this positive outlook: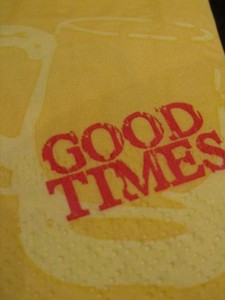 Here's my list of some "good times" that occurred in 2010.
-completed the Niagara Sprint Triathlon and ran the Sporting Life 10K too.
-worked as a food sales rep for DSM Foods and opened up many  new accounts (double digits).
-enjoyed a variety of tweets ups in Toronto and in Ottawa as well.
-travelled to New York to attend the Speciality Fine Food Show in June.
-went skating on the canal in Ottawa for the first time in decades and had a blast.
-discovered new coffee shops and restaurants like a good foodie. (ha)
-2010 could be called "the year of twitter". I'm addicted. It's official
-bought an Ipad and a Macbook in 2010 and loving both. (i hope my iphone isnt jealous).
-read some great books (Repairing Rainbows by Lynda Fishman) and saw some great movies too (Black Swan).
-blogged for Urbanmoms for almost a year and then created momwhoruns in October. Blogging, for sure was a huge part of 2010.
-was introduced to Zumba at GoodLife Fitness and now I'm hooked.
-tried hard to eat breakfast. (think egg whites or quinoa flakes)
-enjoyed the summer by travelling to Kingston, Cobourg, Elora, Stratford and Niagara on the Lake. We live in a great province. Really.
-Continued to be surrounded by awesome family and friends!!
Looks like 2010 was a good year. I'm certainly looking forward to 2011.
Wishing everyone a Happy New Year.