I grew up eating bagels in Ottawa (remember Bagel Bagel?). Infact we even had a cockapoo called "Bagel". In my neighborhood in Toronto, bagels seem to be everywhere (I'm not complaining), so I decided to compare them. I know that I'm opening a can of worms as EVERYONE has a different opinion about their favorite bagels.
I bought bagels from Bagel World, Bagel House, What A Bagel, Gryfes, and St. Viateur (direct from Montreal – but stored in the freezer).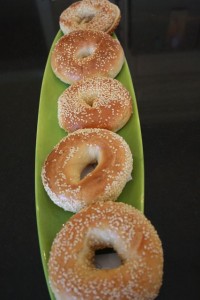 I put little pieces of paper under each one and then started to nibble away not knowing where the bagel was from.
Here's my thoughts:
Bagel World: It was doughy, sweet and tasty. YUM.
Bagel House: It was yeasty, dense and chewy. A favorite – probably because I liked the chewy factor.
What a Bagel: Oily and bland.
Gryfes: I'm going to make a lot of people upset but I found this bagel to be oily and airy.
St. Viateur: very chewy, dense and very different than all the others. Hands down – my favorite.
Don't get me wrong. I would never refuse a bagel – no matter where it's from. A toasted bagel with butter, or jam or cream cheese IS SIMPLY DELICIOUS.
It was an interesting experiment but I was sorry that I didn't include bagels from Harbord Bakery. Next time.