As you know, I keep visiting Ottawa on a regular basis to visit my parents. On my last visit to Ottawa over the holidays, I asked my twitter friends "what's new in Ottawa" and with their help I was able to check out two new restaurants: Illume Espresso bar and Union 613. Plus I went to visit Golden Palace , which has been a staple in Ottawa for over 40 years.
My mom and I went for dinner at Union 613 the night that  I arrived….., but only after I read every blog post possible on Urbanspoon.  Reading these blog posts certainly helped me figure out what to order. (Does anyone else do this – or just me?).
We shared the following items:
Fried Green Tomatoes, Boston Bibb, pimento cheese, pickled onions, bacon and black pepper ranch dressing
Eggplant and Tomato Casserole, herbed clarmell chevre, garlic crumbs
Cheddar & Roasted Garlic Hominy Grits
Cornbread & Bourbon Brown Butter
Dessert: Pretzel Beignet, lime glaze, dark chocolate, acorn creek chili
We loved the atmosphere, the service (Ilana was an amazing waitress) and the food. We were oohing and aahhhing over everything. I should point out that even though I grew up in Ottawa….I had  NEVER been to a restaurant on that "Somerset" strip. (weird eh?). Thanks to Union 613…. that has all changed.
The next morning, we headed to the west end to check out Illume Coffee.
The space is really quite modern and not at all what I was expecting. (but in a good way). Our orders were taken by a friendly young staff member and before you knew it, our lattes were gone. No one was complaining!! All three of us, had nothing but good things to say about our lattes.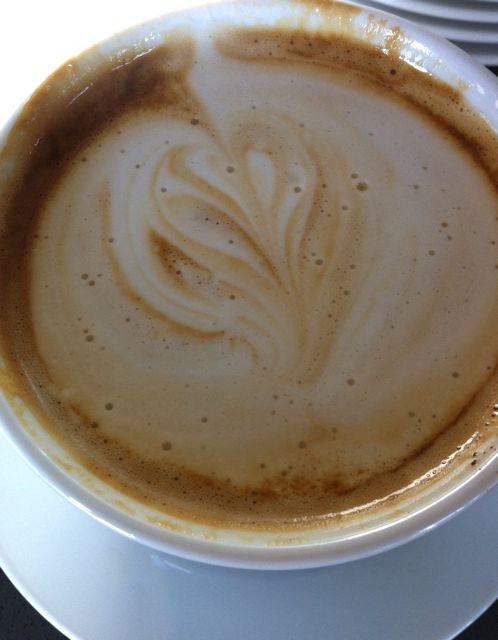 We also ordered a few baked goods to enjoy and those were demolished too.
I'm sure this espresso bar will be welcomed by the community and by Ottawa coffee lovers.
I also went to pick up EIPC egg rolls from from
Golden Palace.
Seriously. These egg rolls are
not
to be missed. On a Sunday, you can find a line up full of people taking these EPIC egg rolls back to Toronto.
Once again, I had a great trip to Ottawa.  By the way, now would be an ideal time to start planning a trip for
Winterlude
 which takes place Feb 1-Feb 18, 2013. (hint)
I know I hope to be there!!
For More Info:
Illume Espresso Bar 1433 Wellingston St. W Unit 111
Union 613  315 Somerset St W. (613) 231 1010
Golden Palace 2195 Carling Avenue (613) 820-8444