My last post was about baking assistance.
This post is about fashion assistance.
I need both!!
How timely that I received an invitation to get "BETTER STYLED". How could I say no?  I always need help when it comes to fashion coz Im overwhelmed by choices, have no time to get to the malls, and cant seem to focus once Im in a store.
Better Styled offers:
individual attention
parking..(which isnt so easy these days..have you noticed?)
appointments according to your schedule..weekends, nites, mornings, etc.
I made an appointment to meet Erin recently, and was immediately impressed when I walked thru the doors of her office. We sat down in a beautifully decorated room and she asked me a few questions about my "style". (style? whats that?).
Then she disappeared into her back room..and came out with exactly what I needed.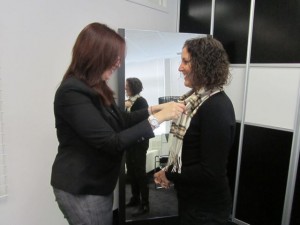 Erin was awesome..she listened to my fashion problems and then came up with solutions. (like a fashion magician).
I walked out with 2 scarves and a piece of jewellery to compliment a dress I own. I really needed those three pieces but would have never bought them without the guidance of a professional like Erin.
For woman like me (i.e. have no time, and cant seem to make choices once Im in a store)…Erins' service is invaluable.
For further information, please visit her website at BetterStyled or just call her and make an appointment like I did….416 485 5100 x225 . She can also be reached by email at erin@betterstyled.com.