SIAL is an International trade show dedicated to those in the food industry. They have five shows a years in four continents (pretty impressive) and this year, the Canadian SIAL was moved from Montreal to Toronto. How convenient!!
This show is unlike Grocery Showcase or the CFRA Show and you can tell immediately. There's rows and rows of booths from Italy, Spain, Greece, Portugal, France etc. You really feel an International presence!!  I heard more French and Italian than I have heard in years. I wont mention the European men and their beautiful suits (oops did I just say that?).
But let's talk about the food! Here's a few products that caught my attention.
Marcy's (well known for her croutons) has introduced a bread pudding! For someone like me, who loves making bread pudding but HATES cutting up the bread – this is ideal. Talk about convenience!
I also loved Vertigo Gourmet and their line of summer mix salads. Flavorful and colorful. Take a look at these edible flowers. HOW GORGEOUS is that?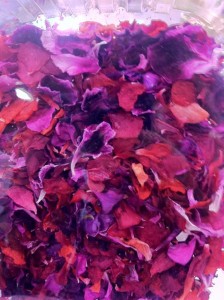 My favorite product had to be Mostarda di Mele Cotogne from Senapata. This product, which is distributed by Serrano Imports, had such a kick to it and because I love flavor – this product won me over. Sadly not available at retail locations but you will certainly find it served in restaurants.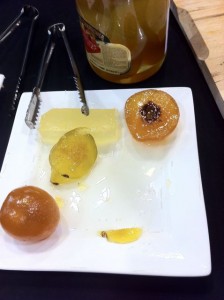 Naturally these new tipsy fiery-olives from Sable and Rosenfeld caught my attention too. They are intended to kick up your cocktail but I would just eat them right of the jar.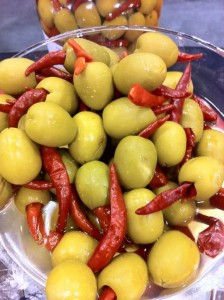 I also saw a booth about The American Cheese Society's Annual Conference and Competition that taking place in Montreal Aug. 3 to 6th. I am SO THERE!! It's already in my calendar!!
I love food shows. Can you tell? Actually I like all shows…the International Bike Show, The Green Living Show, The One of a Kind Show and the Home Show. Never been to the Auto Show, or the Cottage Show but they have always been on my  list. Do you have a favorite show?