It was a busy week!! As you know I went to the Canadian Health Food Expo on Sunday. Then on Monday morning, I was checking twiiter (for a change) and noticed a tweet from @savvari "Anyone else going to Grocery Innovations today"?. Had I not seen her tweet..I would have missed the show!! I had no idea it was taking place.
Several hours later…I was at the Canadian Congress Centre, strolling (happily) thru the aisles looking at new product. I was in my element, once again.
Here's a few products that caught my interest:
Sadly I did not get the chance to taste it. However it certainly caught my attention. What do you think?…
The next item makes me VERY VERY happy. Dempster's has come out with a KOSHER bread. This is HUGE news for those who keep a kosher kitchen and have to go to a kosher bakery to get bread. Now you can find kosher bread in your local grocery store. Dempster's has made my day!!  All you have to do is preheat the oven to 400 degrees, put the bread on the rack, and 8 minutes later….warm delicious bread. How awesome is that?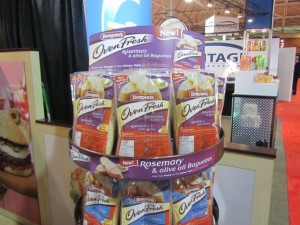 Im also a huge fan of butter  so when I noticed a new butter from Cows Creamery…I was ecstatic. It not only has a higher butter fat ratio but it has the addition of sea salt to it. Heaven.
This product caught my attention too…SEXY dressing. I tweeted about this product and the name certainly got peoples attention.
I love clever marketing and packaging.
Next shows that I will be (happily) visiting: The Gourmet Food & Wine Expo and The Canadian Restaurant and Foodservices Association.
Stay Tuned.