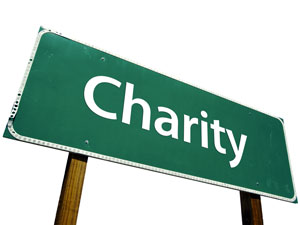 There are many many charities out there – infact I use to work for a variety of non profit organizations,  as a special events coordinator. I know how important it is for these charities to raise money and I know how hard the volunteers (and staff) work to get these events off the ground!!
Usually people have a favorite charity for one reason or another. For me – I like to give back to charities that have affected my family or my friends families.
In particular there are four charities that I will always support:
Here's the story how I am connected to all four charities:
a) Ontario Track 3 Ski Association is a cause I will always support, as my son participated in their program for years and as a result of being in their program  he is a confident, accomplished snowboarder who now snowboards with Snowhawks. I use to go to their event at Steam Whistle to decorate the room – for years and years. Their gala will be taking place sometime in early 2012 and I know that I will try to help out anyway I can.
What's important for you to know is that Ontario Track 3 Ski Association has 200 disabled participants (from the age of 6 to 19), 450 volunteers and 17 Ontario Ski Hills (from Earl Bales Ski Hill to Craigleith) I can't say enough about how organized, efficient and professional everyone is and I am forever grateful to all the volunteers and staff!!
By the way, I heard of Ontario Track 3 Ski Association due to War Amps of Canada and their matching mothers program. War Amps was instrumental to my family back in 1996 and continues to be a big part of my life. There are no words for me to express how grateful I am to them.
b) Zareinu is the also important to me as I know several families who have benefited from this outstanding school for children with developmental and physical disabilities. This is the 8th year that they have held the Zareinu Fashion Show and I'm sure I have attended at least 4 of those events. Each time I attend, I leave inspired. We are SO lucky to have a world leading facility like Zareinu in Toronto. This year the event will be held on Nov. 16th at On The Park and once again will be hosted by  Jeanne Beker from CTV's Fashion Television.
c) Back in 1996, 1999 and 2010, The Hospital for Sick Children in Toronto,  was an important part of my life. I am truly grateful for all the wonderful care my son received during his clinics, surgeries, appointments etc. Therefore I will always support SickKids Foundation. This week some of Toronto's most terrifying homes are raising money for SickKids Foundation. All of these haunted homes are FREE but will happily accept donations for SickKids.
Scare for a Cure (1 Plover Heights, Woodbridge, Oct 31)
I'm hoping that in the future, not only can I provide a donation but more important I can give my time to volunteer to these amazing charities.