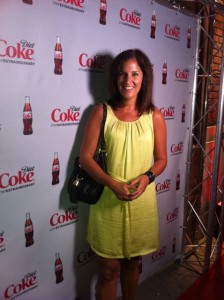 What a great week…I scored not only an invite to a TIFF movie (see previous post) but I scored an invite to a TIFF Party too.
Both invites were a result of twitter. So if you arent on twitter – what are you waiting for?? I mean really!!
OK back to the party. Here's what my afternoon looked like on Tuesday:
4: 30 – 5:45 p.m. – watched the US Open Mens Finals at a friends house. It was an epic match between Nadal and Jokovic.
6:00 – 6:30 pm – hair straightened.
6:40 p.m – 7 pm. – shower and dress to impress!!
7:00 – 7: 45 p.m – make up gets done at Shoppers Drug Mart by the nicest make up artist (Andrew) who does magic with his brushes and powders.
Then I went downtown to The Hoxton (69 Bathurst S) for the Diet Coke TIFF Gala!! What can I say? The party rocked. …the music, the people, the drinks, the food and the overall atmosphere. I met some of old twitter friends and met some new twitter friends too (@wedding_crasher, @laurenjacobs @danjacobs).
Congratulations to Diet Coke!! You sure do know how to throw a TIFF party…right down to the napkins.
P.S a huge thank you to @MDee14 for the invite.