True story: I didn't drink in high school nor did I drink in university. NOTHING. When I was 25 years old,  I started to go to synagogue and got introduced to scotch at the kiddush (kinda like an after-service reception). I tried it, and I liked it. Needless to say, I'm still drinking scotch 20 years later.
One year, we received 12 different bottles of scotch and that's when my knowledge was really elevated. It was the best gift E-V-E-R. Seriously. We obviously made a few friends that year.
Even after the 12 bottles were finished up (which took a year, by the way) we continued to have scotch in our liquor cabinet. (we didn't want to lose friends…Ha)
A few weeks ago, I was invited by Matchstick to attend a Macallan tasting. Actually, I missed the deadline  by an hour but thanks to @JonGauthier I was able to squeeze in. (Thanks to Twitter too)
It was held at the lovely event space at 99 Sudbury and the event was first class.
The presentation was informative and entertaining and I adored all 5 types of scotch that were served (naturally). I learned a few things about Scotch that evening (how to smell it properly, drink it properly, the differerence between a scotch and a whiskey etc) and loved the presentation.
Several days later, while browsing at Dana Jordans in Bayview Village Shopping Centre, I came across this product (see photo). You pop these rocks into your freezer and when you serve the scotch, you will have SCOTCH ON THE ROCKS. You can now enjoy a cold scotch without the hassle of ice melting (big no no).
What I liked best about the evening was this business card. (I mean I loved the scotch too, don't get me wrong) but I love that they knew that everyone (ok maybe not everyone) would be tweeting about the event and that they provided you with the twitter hashtag. HOW SMART. Clearly the publicist and Matchstick thought of everything.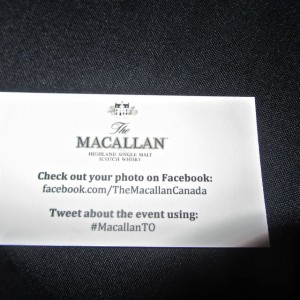 What a great evening.
Must go now – my Macallan is waiting for me.