As a sales rep, I'm always visiting accounts throughout the GTA. One day as I'm parking at the Rutherford Marketplace Plaza, I noticed  a sign –  "MENCHIES" Frozen Yogurt. I walked in, shmoozed with the owner, took a few photos (as always) and knew that I would be returning with my daughter. (who is the queen of frozen yogurt!)
I took Rebecca on Monday night and the place was hopping for a business that just opened a month ago!!
The sales clerk immediately asked us if we had been there before, and then explained how it works:
a) you help yourself to samples of the frozen yogurt. It's self serve and little paper cups are provided. Flavors rotate regularly but that night this was our selection: cake batter, pumpkin, chocoolate banana, pina colada, irish mint, green apple tart and more. We weren't complaining!
b) after you decide  which flavor, (WHICH IS NOT EASY) you take a container and fill as much or as little as you want.  Genius concept:  you pay per weight. (49 cents an ounce)
c) you then proceed to the toppings bar and take as many toppings as you want. Toppings included: cinnamon toast crunch, reeses puffs, gummy worms, nerds, flax seed, granola, cashews, walnuts, and many many more!! (i.e over 40 toppings are available)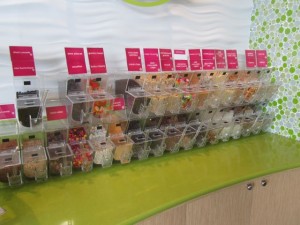 d) proceed to pay
Menchie's has a lot going for it…the frozen yogurt is delicious, but we liked the inviting space as well.
There's chairs, stools, a fireplace, and even a chalk board to leave messages. Sarah Richardson would approve!!
What's exciting is Menchie's is opening a second location on Sat. November 6th at 511 Bloor St. West.
On that note, welcome to Toronto Menchie's Frozen Yogurt. We are delighted that you are here!!
You got a thumbs up!!