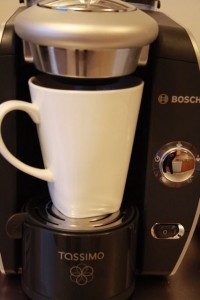 This is my first blog post in 2012 and I thought it would only be appropriate to start off the New Year with a "challenge".
Most challenges are about fitness and some are about food. I even read a blog post many years ago about a challenge to try a different beer for 365 days but this challenge is about SPENDING HABITS and COFFEE.
Like many of you, I drink coffee on a regular basis. But…I only drink it in a coffee shop. I never make it at home. NEVER. I haven't owned a coffee maker since 1990. However all this has changed, when Tassimo sent me a coffee maker to try. When it arrived, I opened the box eagerly, read the manual (which is so unlike me) and started to make coffee. I even invited friends over for coffee and when I hosted a wine/cheese party, we all gathered round the Tassimo to watch the machine in action.
Needless to say: I am thrilled with my Tassimo. I am so happy that I am going to challenge myself to only drink coffee at home for the month of January. I am determined to save $$ (at least 50 dollars) and I'm determined to embrace my Tassimo.
What do you think? Even better…who wants to join me on this challenge?
Disclosure: I received the Tassimo, but was under no pressure to blog about it. The opinions in this blog entry are my own.