A few months ago, I received an email from a friend ,with a link to the Russian and Turkish Baths and I knew that I HAD to visit this place on my visit to NYC.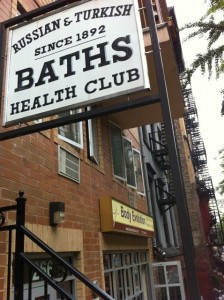 I spent some time looking at the website and knew that it would be an adventure. I wasn't wrong – it was indeed a great experience. I have never been to anything quite like it.
They have separate hours for women and men. Plus there's co-ed. My schedule only allowed me to go to the co-ed option. So I packed my bathing suit and off I went.
I was given a key for my locker and told to put my valuables in their safe. (which I did). Then I went to a locker room to get into my bathing suit. I also told the staff at the front desk that I wanted a platza treatment. (no appt necessary – how awesome)
When I walked out of the womens locker room, a RIPPED GUY (did I just say that?) approached me and said "I am Dennis and I'm here to give you your "platza oak leaf treatment". I honestly was expecting a big fat russian woman but hey – the ripped guy will be just fine. LOL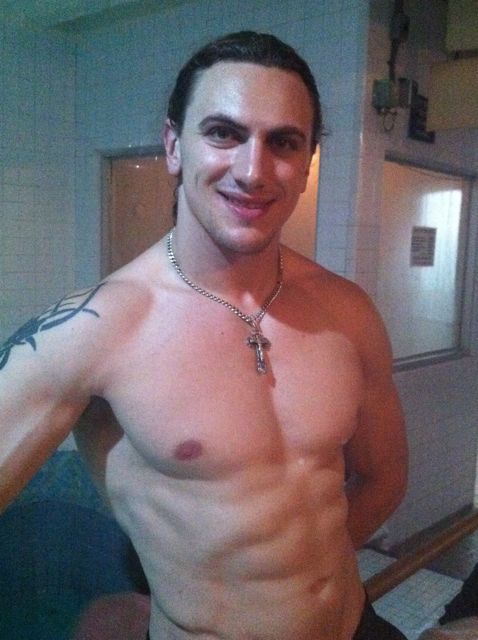 Dennis told me to experience the different steam rooms and that he would find me later on..so I did.
Lets review what I experienced:
The Russian Sauna: According to the website, the oven is filled with 20,000 lbs of rock which are cooked overnight. During the day, these rocks give off intense heat. Apparently only a handful of places have this type of room in the United States. When you walk in – its really dark – kinda like a cave and there's these white plastic buckets (like the type you use for mopping your kitchen floor) and a large basin filed with water. When YOU CANT TAKE THE HEAT, you take the bucket and throw COLD COLD water onto yourself.  I loved this room the best.
Turkish Room – I liked this room too. Kinda like a wet steam room but with a shower inside so you could cool yourself off without having to leave the room (how brilliant).
Steam Room – this room had so much eucalyptus scent that I started to cough and had to leave. However I returned later on – and got use to it.
The Redwood Sauna – typical dry shvitz. Not complaining but not my favorite.
The Ice Cold Pool – I'm not kidding – this is a pool with ICE COLD WATER. I felt the cold IN MY BONES. This is serious Sh*t. I shook my head when I saw people swimming or dunking their whole bodies into this water
Now let's talk about the people: Not once did I feel uncomfortable even though at 2 p.m on a Sunday there were 15 men and 4 woman there. People were shmoozing away in each room unlike the QUIET ZONE I am use to at other spas. I liked it. One guy was even sharing his home made salt scrub with a whole bunch of us. Nice!!
As for my platza oak leaf treatment. Dennis found me, and then led me into the Russian Sauna (didnt realize it would take place in a public room – but hey – I just rolled with it). He told me to lie on my stomach on one of the benches. He put a towel over my head and then proceeded with the treatment. It felt like I was going thru a car wash. (not when the hard spinning bristles hit the car, but when those long soft ribbons hit the car). I loved it. I really did. Between the heat, the oak leaves hitting my body, and the buckets of cold water splashed on me – it was indeed SUPER RELAXING. I felt like a wet noodle afterwards. I even said "I could do with a nap now".
I was drained even though the treatment wasnt that long. Then I had a shower (to rinse off the oak leaves) and had a quick head massage and shoulder rub to relax me even more.
Would I go back again? In a heart beat. Would I get a platza oak leaf treatment again? in a heart beat.
PS if you go to YouTube – do a search for "platza treatment" and you will find a video.