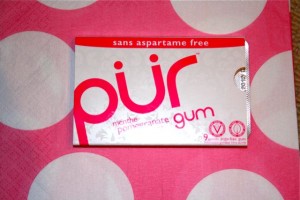 A while ago I was introduced to PUR Gum and immediately I fell in love with the pomegranate mint flavor.
Not quite sure if there's another pomegranate mint flavored gum on the market – but I think it's a brilliant flavor. Not that I don't like spearmint or peppermint (which PUR also carries) but sometimes change is good. I'm tired of fruity flavored gums and Pomegranate PUR gum has just the right amount of tart.
After I was intoduced to PUR gum, I started to see it everywhere!!  Due to the fact that I'm a sales rep and know a few store owners,  I asked a retailer why their customers preferred PUR over their competitor and they replied "our customers like the fact that it's made in Switzerland". I actually heard the same statement from two different retailers. Interesting, don't you think?
As a consumer, I loved the clean packaging and the different flavors (you know me, it's all about flavors). It also appeals to me because it's aspartame and GMO free, vegetarian friendly, with no artificial colors or flavors. Pretty impressive.
I'm so Pomegranate crazy these days – that I'm going to give away ANOTHER pomegranate tool.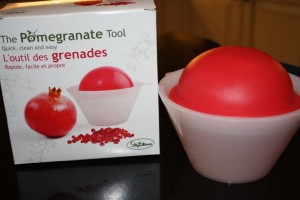 Here are the contest rules:
a) like MOM WHO RUNS on facebook. simple eh?)
b) the contest will run for two weeks and will close on Sunday May 8, 2011 at midnite. The winner will be selected using www.random.org and the winner will have one week to contact me otherwise I'm going to select another winner.
c) only residents in Ontario can enter (sorry about that).