One of my foodie friends finally launched a personal blog (www.onmytabletoday.com) and to celebrate this occasion I decided to make the first recipe he posted!
It was easy to make and a huge hit with my guests.
Here's the recipe for Roasted Cauliflower with a Tahini Glaze (recipe from www.onmytabletoday.com)
Ingredients:
1 Cauliflower
4 Tbsp Olive oil
salt and pepper
For the glaze:
4 Tbsp Tahini
2 Tsp Garlic, minced
1 1/2 Tbsp Honey
2 Tbsp Sambal Oelek (Spicy Sauce) – I chose not to make mine spicy
4 Tbsp Hot water (to adjust glaze's consistency)
Instructions:
1. Take the largest pot you own and fill it with water. Add some salt and let it come to a boil.
2. Immerse the cauliflower in the salted boiling water for no longer than 6-7 minutes. (ps I got distracted and boiled the cauliflower to death and had to go out and buy another cauliflower). USE A TIMER.
3. Once you remove the cauliflower from the boiling water, massage  it all over with olive oil and salt and pepper.
4. Broil the cauliflower for 5 to 7 minutes. (use a timer as you don't want to burn it). Check on it every once in a while!!
4. Prepare the glaze and then massage the glaze all over the cauliflower (this is the fun part)
6. Broil the cauliflower once again for another 6-7 minutes. (till it gets brown) USE A TIMER.
7. Top with pomegranate seeds and serve immediately.
Naturally it was such a hit that I decided to buy another cauliflower and try another recipe that I found online.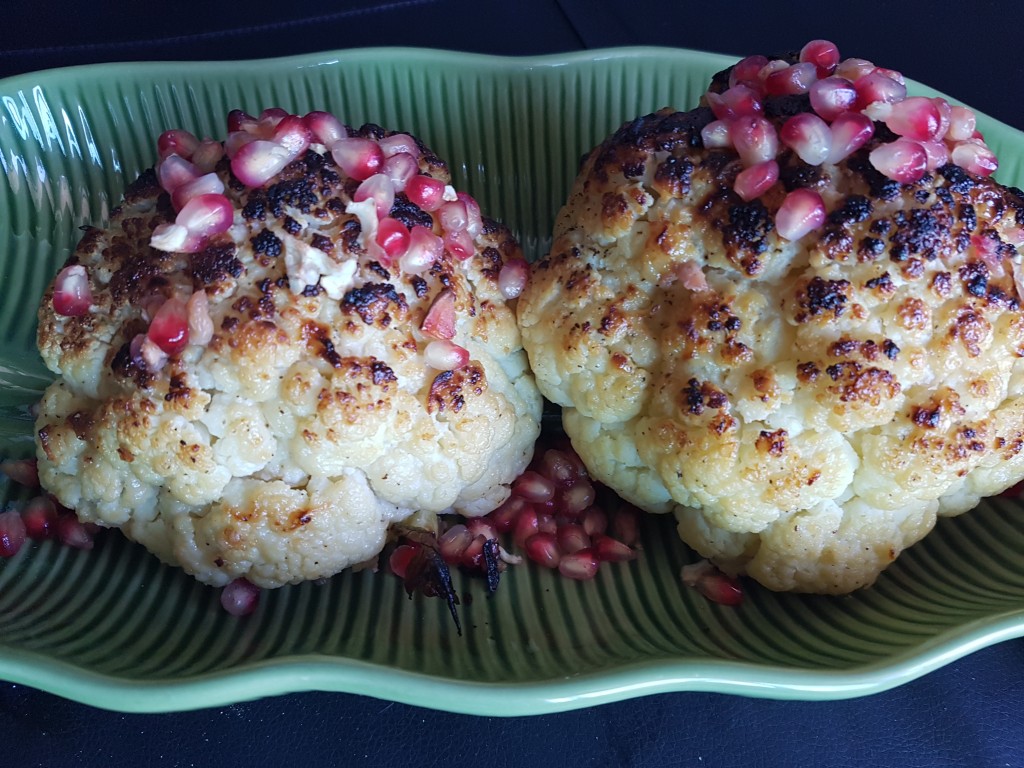 Roasted Cauliflower with Lemon Tahini Sauce – (original recipe from the Vegetarian Times)
1 large head cauliflower, cut into 1-inch florets (about 1 ½ lb.)
4 tsp. olive oil, divided
2 cloves garlic, minced (about 2 tsp.)
2 Tbs. tahini
1 Tbs. lemon juice
¼ tsp. salt
1 Tbs. chopped parsley
1 tsp. toasted sesame seeds
1. Preheat oven to 425 degrees.
2. Toss cauliflower with 2 tsp. olive oil, and season with salt. Spread on large cookie sheet, and bake 12 to 15 minutes, or until cauliflower is fork-tender and slightly browned.
3. Meanwhile, heat remaining 2 tsp. olive oil in small saucepan over medium heat. Sauté garlic in oil 1 to 2 minutes, or until fragrant. Stir in tahini, lemon juice, 5 Tbs. water, and salt. Simmer over low heat 1 to 2 minutes. Remove from heat.
4. Spoon over the cauliflower or broil for 5 minutes. You don't have to put it back in the oven- but I did and it was delicious. Sprinkle with parsley and sesame seeds, and serve.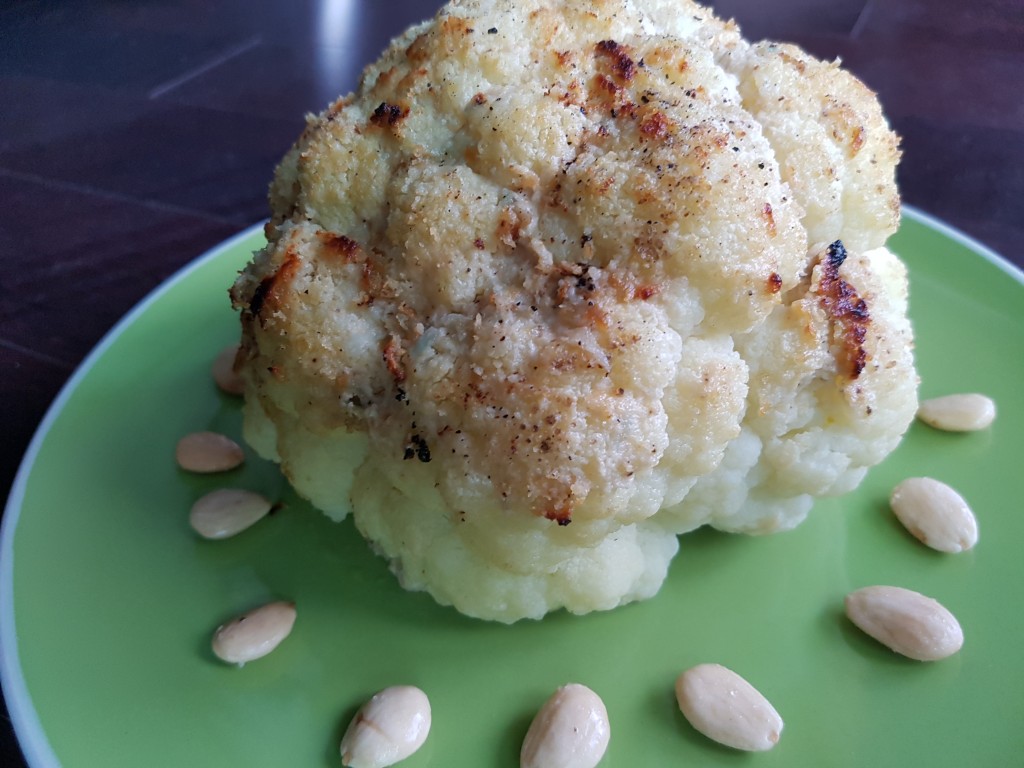 Happy Cooking!!