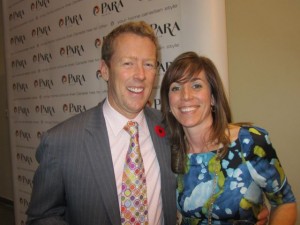 Several weeks ago, I received an email inviting me to an event as Sarah Richardson would be launching a line of PARA Paints "Canadian Style".
The reply went like this:  "Of course. I would be delighted to attend!!"
The event was held at the corporate headquarters for PARA Paints and the Canadian theme was integrated into all aspects of the evening: Canadian Wine/Beer was served, maple leaves were scattered on  the serving platters, and the gift bag was a bottle of Canadian Maple Syrup. Nice.
OK, enough about the food and decor, lets talk about Sarah Richardson.
She is lovely. But you know that from her TV show.
In front of a microphone, without a prepared speech, she is A PRO. She talks so passionately about paint, her summer jobs painting exerior/and interiors, her determination that a $50 can of paint can transform a room and your mood (I really do believe her).
I wasn't able to spend time with her, however, I noticed her husband was at the event and I introduced myself. We chatted about their kids (2 and 4), how he ended up on the TV show, and how their life is busy but "weekends are golden".
It was a pleasure to talk to him, but next time I'm going to see if I can get an interview with Sarah. I know my readers like her show as much as I do.
The General Manager, Dennis Duda of PARA Paints said in his opening remarks that it was a great strategy to partner with Sarah Richardson. I couldn't agree more.
Happy Painting!!