Snakes and Lattes opened up a few months ago and received a TON of press.  All good.
It's a genius concept: Hang out and play board games while drinking lattes!! Sounds good to me. They even have a liquor licence. (added bonus)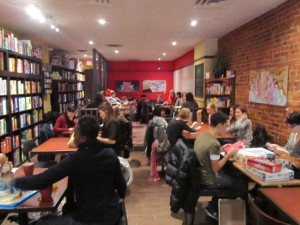 Notice there are no MacBooks in the picture. People are actually TALKING to each other. Just like in the old days.
When I received an email from LivingSocial for an opportunity to buy $30 for $15 of food and drink at Snakes and Lattes Board Game Cafe, I immediately  scooped up two certificates. One for my daughter (who is 11) and one for my son (who is 15).
What a great place for them to hang out with their friends on a Sunday!!  They have tons of board games to select from i.e 1,500 board games.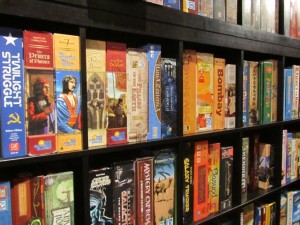 While the kids played, I had a chance to chat with the owner Ben. He told me this type of concept is popular in France and he thought that Toronto should have a similar place too. (smart guy). We even played boggle. Just Kidding!!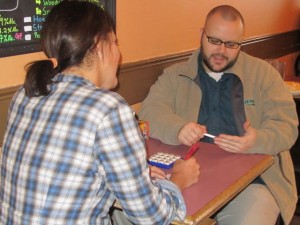 The concept is so popular that they are already expanding and adding more seats.
If you are looking for something to do over the holdiays, please visit Snakes and Lattes, 600 Bloor West. You will have a great time. Promise.
One more thing: sign up on their facebook page for lots of  inside information. (hours, special events, announcements, etc) They have 3,281 facebook fans which I think is pretty neat seeing as they just opened up.