Seeing as I was a food sales rep, I had been to Alimento Fine Food Emporium before. They are owned by Grande Cheese and infact I was the sales rep at three of their locations!! This family run business knows cheese (can you say 140 varities?) Therefore,  I was eager to enjoy a dinner at Alimento and was delighted to have been invited to a wonderful evening so I could sample a few items from their menu.
The evening started off with this unique cocktail: I'm all about flavor so this drink really appealed to me. It was called the Rosmarino Dolce and basically its made with Brandy, Amaretto, Burnt Lemon Syrup, a Rosemary Sprig and Sparkling water.
Starters included an amazing shaved brussel sprout dish which I keep meaning to try at home. What is it about this extra step that makes brussel sprouts taste better?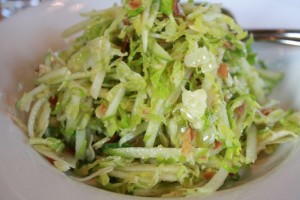 Then we enjoyed a charctuerie plate full of all the right things!! I gravitated towards the fresh cheese (about 3 times – to be honest). Ok – throw in an olive or two as well. Hee Hee.
For my main course, I ordered a fusili dish. Clearly this is not the same pasta I am using at home!!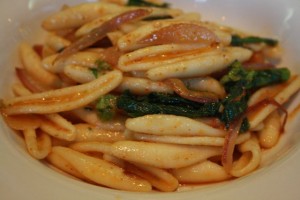 I had to leave early so I didn't get a chance to have dessert. However on the way home,  I did nibble on the pistachio cookie that was in my gift bag. Soon as I got home those cookies went directly into the freezer so I didn't nibble any more of it!! (true story).
I encourage you to drop by Alimento ..it's an ideal location to pick up a selection of cheeses, olives, or meat on your way home from work or to grab a drink or to sit down and enjoy a wonderful meal. It's all about convenience and Alimento gets it!!
Alimento Fine Food Emporium: 522 King St West, Toronto, 416 362 0123