Last week, I biked from Bathurst/Eglinton to Evergreen Brick Works Farmers Market. It was a super easy route, and 99 % of the time I was on the beltline and not on a major street. I was kicking myself that I have never done this before!!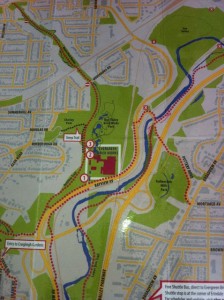 It was my first time visiting the Farmers' Market since the Fall and was eager to buy vegetables, but I didn't!! I bought only one item that day and that item was a cinnamon bun for $3 that was absolutely heavenly! I nibbled on it the ENTIRE DAY – that's how good it was. (I wish I knew the vendor but I was clearly intoxicated from the smell and forgot to ask for a business card).
The next day, I went to Ottawa to surprise my mom for Mother's day. The sun was shining, so off we went to the Ottawa Farmers Market in their new home at Brewer park. We loved the lay out and every vendor that I spoke to was thrilled with the new location.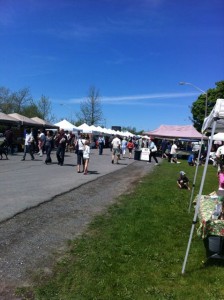 Once again, I had every intention to buy vegetables but ended up buying maple cotton candy. I felt like I won the lottery as I scored the last two bags.
What is wrong with me? Why didn't I buy anything healthy? I honestly don't have a sweet tooth but for some reason…did not buy one single vegetable at either farmers market. I'm not really concerned as I know that I will be visiting plenty of farmers markets over the summer and fall!!
For further info:
a) Farmers Markets: click on this website  www.farmersmarketsontario.com
b) Biking in Toronto: click on this website  www.bikingtoronto.com