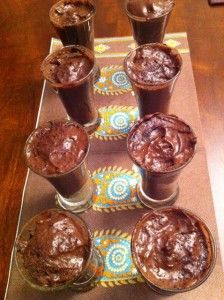 Recently I was having guests over for dinner and thought that I would make chocolate pudding for dessert. I've made chocolate pudding before and it's always a hit. I even remember making it in "home economics" a thousand years ago – in fact it's the only thing i remember making in that class!!
I searched online (of course ) for a recipe and after reading thru a few recipes  I found  "the winner" (as I call it). Its from overthehillandonaroll. By the way – this blog has some kick-ass photos and recipes. Worth taking a peek at (in my humble opinion).
Here is the recipe…which by the way, will not take more than 10 minutes to prepare.
CHOCOLATE PUDDING:
Ingredients:
2/3 cup white sugar
1/3 cup unsweetened dutch process cocoa (I bought Ghirardelli –  spent a few extra $$ but thought it would make a difference)
1/4 cup cornstarch
1/4 tsp salt
2 1/2 cups whole milk
4 large egg yolks
2 tablespoons unsalted butter
1 tsp vanilla
4 ounces bittersweet chocolate
DIRECTIONS:
1. Whisk egg, sugar, cocoa, cornstarch and salt in a medium saucepan.
2. Whisk in milk, taking care to dissolve the cornstarch.
3. Whisk in egg yolks.
4. Put the saucepan over medium heat and whisk constantly (and I mean constantly) till the first large bubble spurts. This takes about 8 minutes.
5. Reduce heat to low, and whisk one more minute.
6. Remove from heat and immediately pour thru a sieve into a bowl.
7. Add butter, vanilla and bittersweet chocolate and stir till smooth
8. Place plastic wrap onto the surface so that a film doesnt appear, chill for 3 hours (or up to 3 days).
Before serving, shave a few sprinkles of chocolate on top or add real whipped cream for additional "wow factor".
Hope you get a chance to try this recipe soon.  It's so EASY and so GOOD.
GO FOR IT – try it – you will like it!!