It was a hot humid day in Ottawa on Sunday and the line ups at Taras Lemonade Stand at Landsdowne Park indicated that everyone was thirstier than normal.
Eventually I knew I had to stand in line too!! I ordered a cucumber lemonande drink but was so thirsty that I didnt have time to take a picture of my drink !
This motivated me to google a recipe and to try it at home!! I found a recipe on the All Recipes website, then I adjusted it (naturally).
Basically you need to have just two ingredients – a cucumber and some lemons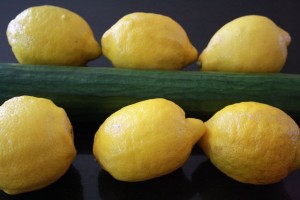 Ingredients:
1 english cucumber, sliced thinly
3 lemons, juiced (you need about 1/4 cup of lemon juice)
1 cup water
1/2 cup white sugar
Method:
Boil the water and the sugar to make a simple syrup
Mix the sliced cucumber in a blender and then strain the pulp from the liquid
Mix the simple syrup, the lemon juice and the cucumber juice – I used 1 cup of cucumber juice, to 1 cup of simple syrup and 1/2 cup of lemon juice but I found it too tart and added quite a bit more water till I found the right balance. Next time, Im going to try and use only 1/4 cup of lemon juice.
END RESULT
It is indeed an interesting mix of flavors and a GORGEOUS summer drink – I totally love this shade of green.
I wonder how it will taste with vodka? hmmmmm.