News Flash…News Flash….EQ3 in Liberty Village has opened their flagship store. Exclusive to this store is the Marimekko line.  Yes..that's right, that gorgeous, stunning, vibrant textile company from Finland. Disclosure: I was able to get a sneak preview but the official date that this store opens is Saturday September 1st!
If you don't recognize the name perhaps you will recognize the fabrics that they are famous for.
The store has a dedicated section for Marimekko and I seriously stood there for a long time saying to myself "I want this..I want that…I wish I could have that…".
This will be the flagship store for EQ3 and there is something for everyone. Wheather you are looking for napkins, a clock, an end table or a cushion…this store should certainly be on your radar. There is something for everyone and something for everyones budgets too!!
I was so impressed and so grateful that I hung around to see the opening of the second floor which had even more gorgeous items to stare at.  Infact, there is a total of 9,000 sqf of space in this flagship store.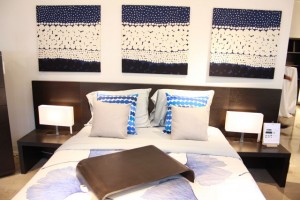 I  have now been in my apartment for a year and I'm sure a little "shopping therapy" at EQ3 would be a perfect way to celebrate this occasion.
Only one small problem: I can never make a decision. Does anyone else have this problem?
For more information:
EQ3 Liberty Village, 315 Hanna Avenue Unit 3, Toronto Ontario (416) 533-9090