When I was growing up, my mom made salmon burgers. But I'm not crazy about the smell of canned salmon so I started to make tuna burgers. They are easy to make, nutritious (I think) and freeze beautifully. Here's the recipe.
INGREDIENTS:
4 tins of tuna
4 eggs
2 cups of breadcrumbs (preferably real breadcrumbs. I always seem to have some in my freezer. I'm normal. I swear)
parsley
salt and pepper
a chunk of red onion
DIRECTIONS:
1. Take all the ingredients and whiz them up in a food processor.
2. Shape into patties
3. Drop into a frying pan with a bit of oil.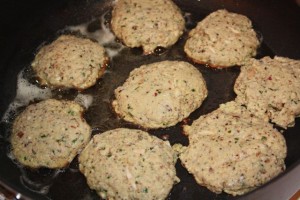 FINAL PRODUCT
I'm going to serve these yummy tuna burgers with an assortment of condiments: mango chutney, Maille mustard, jalepeno jelly, and more. I collect condiments. Did you know?
I will also be serving them along side some roasted organic veggies that were graciously delivered by Fresh City Farms. I was blown away with the flavor of these vegetables. What a difference it makes. Can't wait to share these veggies with my guests: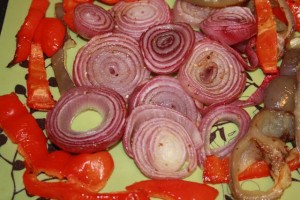 Other items I will be serving include a kale salad with curry sesame seeds and a lemon pistachio napa cabbage salad. Promise to post those two recipes on Wednesday so make sure you come back to www.momwhoruns.com!!
Happy Cooking!!