If you like lemons, and are searching for  a healthy "treat" then this recipe from  Rose Reisman Brings Home Light Cooking is the answer!! It's super easy to make and its also pretty healthy with only 3 g of fat per half slice. Not to mention, the loaf freezes beautifully.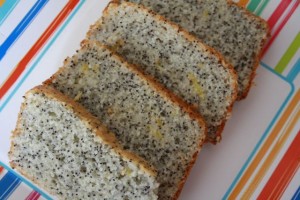 I also want to share my love for this gadget that I picked up by the cash register. (can you say Impulse Buy?) at Kitchen Stuff Plus. It not only helps me squeeze lemons and limes but it measures the quantity for me – all in one GIZMO. Cant remember how much I paid for it – but whatever it is – it's making me happy!! Oh how I love gadgets that make me happy.
Lemon Poppy Seed Loaf  (from Rose Reisman,  Brings Home Light  Cooking)
3/4 cup granulated sugar
1/3 cup soft margarine
1 egg
2 tsp grated lemon rind
3 tbsp lemon juice
1/3 cup 2% milk
1 1/4 cup all purpose flour
1 tbsp poppy seeds
1 tsp baking powder
1/2 tsp baking soda
1/3 cup 2% yogurt or light sour cream (I always use yogurt).
METHOD:
1. Preaheat oven to 350 degrees
2. In a large bowl or food processor, beat together sugar, margarine, egg, lemon rind and juice, mixing well. Add milk, mixing well
3. Combine flour, poppy seeds, baking powder and baking soda. Add to bowl, alternatively with yogurt mixing until incorporated. Do not overmix.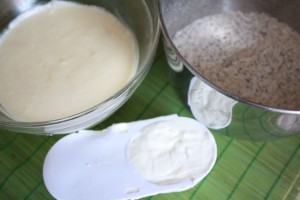 4. Pour into a greased loaf pan and bake in a preheated 350 degree oven for 35 minutes.
Happy Baking!!