For some reason, I don't spend a lot of time visiting the Danforth even though I really should. It's a wonderful neighborhood full of great patios, grocery stores, clothing stores and FOOD. (ha…my favorite subject).
This past weekend, I was determined to make the most of my visit to the Danforth and visit some old favorites and check out some new restaurants too. Here's three spots that I visited:
1. ATHENS BAKERY: It's always the first place I visit when I go to the Danforth. It's not new, but there are still plenty of people out there who have not discovered LOUKOUMADES and you really should. The chalkboard menu describes them as "honey coated balls of dough". I describe them as HEAVEN. Seriously…please go get a half dozen and sprinkle them with cinnamon. You can thank me later.
2. THE FUZZ BOX: I seriously googled "new danforth" and this restaurant appeared. Like a good foodie – I went. First, I called the restaurant to see if they had anything for vegetarians. The owner was super friendly on the phone and told me that they were just testing out a donair with tofu and even though it wasn't on the menu yet,  he would be happy for me to try it.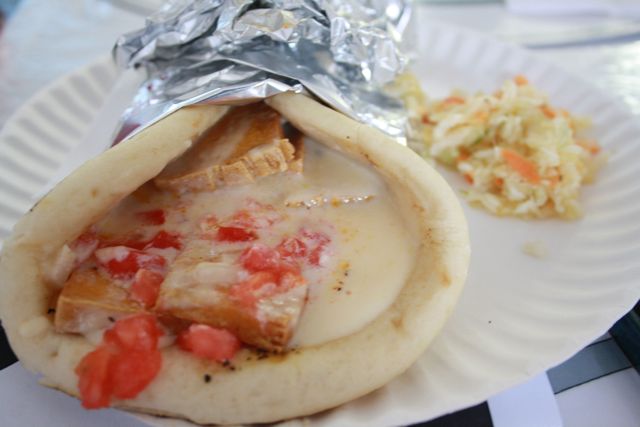 I have never had a donair before, never knew the history about donairs, never knew about the special sauce or the special seasoning – but the owner patiently explained everything to me while I was waiting for my donair.
What's important to know is that The Fuzz Box is the ONLY Toronto restaurant who specializes in Donairs. I'm seriously thinking about organizing a tweet up at this restaurant. Who's in?
3. The Works Gourmet Burger Bistro: This is a new restaurant on the Danforth but I've been eating at the Works in Ottawa for over a decade. So I'm super familiar with their tower of rings and their massive menu which offers a huge variety of hamburger creations. (seriously..someone has a good job creating all those hamburger names).
Here's an old photo I dug out:
For Further Info:
Athens Pastires, 509 Danforth Ave, (416) 463 5144
The Fuzz Box 1246 Danforth Ave, (416) 769 1432
The Works Gourmet Burger 888 Danforth Ave. (647) 748 4455