Passover starts tonite at sundown which means a lot of Jewish people will be having Matza Balls in their chicken soup. I actually make them all year round but that's another story. I usually make them from a mix but for this blog entry, I decided to kick it up a notch and make them from scratch.
What's the difference – you ask?
From a Box: it has nasty ingredients (ie monisodium glutamate) but it's convenient and they pretty much always turn out right.
From Scratch: no nasty ingredients but it takes almost twice as long to make
In the event you want to do you own comparison. Here's what I did.
The Mix Method (otherwise known as "From the Box").
INGREDIENTS:
a) the box (please buy matza ball mix and NOT matza soup and ball mix)
b) 2 eggs
c) 2 tsp vegetable oil
METHOD

:
 (according to the recipe on the side of the box)
a) mix 1 packet with 2 eggs and 2 tsp vegetable oil in a small bowl
b) put in the fridge for 15 minutes
c) boil a pot of water
d) make balls (small..not golf balls but more like the size of large marbles)
e) place into boiling water and COVER
e) reduce heat and simmer for 20 minutes
FROM SCRACH
Recipe (taken from
Food.Com
)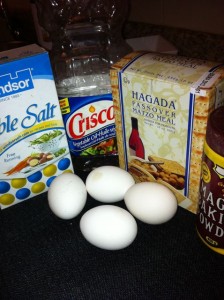 INGREDIENTS:
1 cup matza meal
1 tsp baking powder (may be omitted during Passover)
2 tsp of salt
4 eggs
4 tsp vegetable oil
METHOD
a) mix eggs and vegetable oil in a small bowl
b) mix baking powder and matza meal in another bowl
c) mix wet ingredients into dry ingredients but do not overmix
d) put the mixture in the fridge for an hour
e) boil a pot of water
f) make small balls (again not the size of golf balls more like large the size of a large marble!!)
g) place balls into boiling water, COVER and simmer for 40 minutes. (do not touch – yes – that's right – do not touch)
RESULTS:
It was a no brainer – the matza balls from the recipe tasted "real" vs "salty". As for the texture – both were light and fluffy.
Not sure I will be buying the mix again. It's SO much healthier to make my own.
By the way – its worth googling a few matza ball recipes online. Each one was different i.e one recipe even called for club soda.
Happy Passover and for those who celebrate Easter – Happy Easter.