I've just returned from Picton as I attended the first ever – Great Canadian Cheese Festival.
The festival was held at Cyrstal Palace Fairgrounds, in Picton from June 3rd to 5th, with a full schedule that included: A Cheese Tour, Tutuored Tastings and Seminars, a Gala dinner and more.
I decided that a day trip to attend the Sunday Artisan Cheese and Fine Food Fair would be perfect.  I am SO glad I attended. First of all – I love cheese. Second of all – it allowed me to visit Picton. How could I not go?
The venue was stunning. There were some vendors inside a gorgeous building and some vendors outside under tents. I really did enjoy the setting. Who was there? Lots of cheese makers, lots of wine, a nice variety of beer ,and a few food vendors. I can't complain.
I enjoyed many of  the cheese samples (with about 4 lactaid pills) and was thrilled to be introduced to new cheeses.
I discovered :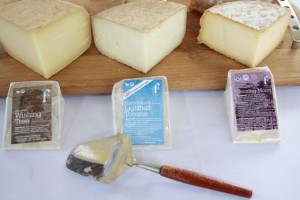 More discoveries: I loved the presentation of these chocolates that were infused with wines from Mercury Chocolates (located in Cobourg).What a beautiful dinner gift for someone who loves wine and chocolate!!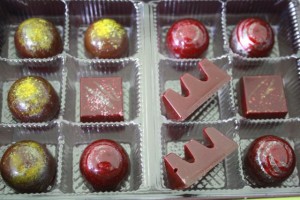 Seeing as the Crystal Palace was so close to the main street in Picton, I had to make a stop at Buddhas Dog (172 Main). I was eager to try Chef Flynns' (who I met by the way) dragon breath mousse with rhubarb compote and locally grown asparagus on a home made hot dog bun. I  was happy!! Thanks to @OntarioCulinary for the great recommendation.
It was the first year that the Cheese Festival took place and I understand that it will be an annual event. I am thrilled for them. Congratulations to George Kolesnikovos who is the founder and director. I'm sure each year will get bigger and better.  Here's a picture of George – he was easy to find!!
Looking forward to attending next year!!