I was invited to an event at Loblaws, so I could learn more about their PC Blue  Menu Products and learn more about initiatives taking place to help consumers make healthier choices. I signed up right away – as I'm a big believer in eating fresh foods and cooking from scratch.
The evening started off really well. I snacked on PC greek yoghurt with some PC Blue Menu Granola. I was a happy camper.
Then we went downstairs for a tour which was led by one of their in-house nutritionists (did you know they offer this service?) We walked through the a variety of aisles and learned about hidden sugars, hidden sodium,  and how to select food with more  fibre. It was all very interesting.
However…in the back of my mind I kept thinking about tweets I had read on twitter about the DONUTS  and the CUPCAKES that are served at this location. Seriously.  I am not joking. I was surrounded by nutritionists and dreaming about donuts and cupcakes!!! Could it get any worse? the answer is: YES.
I snuck away from the group (me. bad) and bought:  A RED VELVET INFUSED CUPCAKES:
THEN I BOUGHT A CHILI CHOCOLATE DONUT!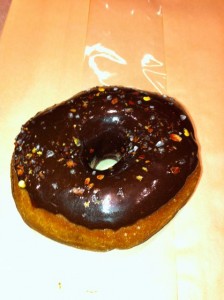 I inhaled the donut. It was THAT good.
Let's end this blog post about eating healthy!! Please check out the Loblaws website so you can learn more about their cooking school, their nutritionists, and their tours.
Here's to a Healthy March!!
p.s. I ran on the treadmill 5 times this week so I felt like I could have a "treat". Does that make sense?