I've made a ton of blueberry crisps, mixed fruit crumbles but have never made a peach cobbler before. So I decided to try a recipe and it was so good that I made it two times in one week. That's how easy it was to make and that's how delicious it was.
I don't know about you but I kind of like recipes that don't require any heavy duty equipment. This recipe is one of them. You just need a few bowls…one for the topping and one for the flour mixture. I didn't even have buttermilk on hand but made my own and the recipe worked!! Yay for the internet.
Here's a winning recipe from the Food Network.
Ingredients
 Filling:
4 cups peeled and sliced fresh peaches (blanch in boiling water for 30 seconds to remove the skins)
3/4 cup brown sugar
1 teaspoon cinnamon
1 teaspoon vanilla
1 tablespoon flour
1 cup flour
1 teaspoon baking powder
1/2 teaspoon baking soda
3 tablespoons brown sugar
4 tablespoons unsalted butter, cut into small pieces
2/3 cup buttermilk
1 tablespoon brown sugar, for topping
Whipped cream (which would have been nice but I didn't have it…nor did I have ice cream which also would have been nice)
Directions
Preheat the oven to 425 degrees F.
Generously butter a 1 1/2-quart shallow baking dish. (I sprayed it with Pam)
Place the sliced peaches in the dish.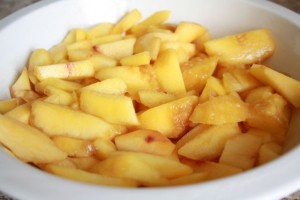 Sprinkle with brown sugar, cinnamon, vanilla, and flour. Mix gently and spread over the peaches. Bake for 10 minutes.
Meanwhile combine all dry ingredients for cobbler crust in a bowl. Cut in the butter with a pastry cutter or your fingers, to make the texture like coarse crumbs. Add buttermilk and stir to form a soft dough.
Remove fruit from oven and drop rounded spoonfuls of dough on top. Sprinkle with last tablespoon of brown sugar and return to oven.
Bake until fruit is bubbly and crust topping is golden brown, about 20 minutes. Serve warm with whipped cream (which I didn't have nor did I have icecream. Don't sweat – everyone will still love it).
FINAL PRODUCT