Last week was my birthday and my BF spoiled me rotten by whisking me away to the Inn on the Twenty in Jordan, Ontario.
It was the perfect time to get away – it was off season (ie. NO CROWDS) and the weather was warming up. There's something to be said about travelling when it's off-season. I really think it's the way to go!!
We left on Sunday at noon and got to Jordan just in time for a late lunch at the Jordan House. Our friendly waitress (Leah) informed us that the fish tacos were a new item on the menu so it was a no brainer for me to check them out!!  Plus we both ordered beers. (even though we were in a wine region).
There is no doubt in my mind that the fish tacos will stay on the menu. They were perfect. Absolutely perfect.
After lunch we checked in. We were originally suppose to stay at the Jordan House but they upgraded us to a beautiful room at the Inn on the Twenty. We were thrilled to find out that the room was massive, complete with a sitting area and a fireplace  (it was Room #1 – just so you know). Not to mention that the bathroom was so big it could have been a room!!
We had dinner reservations at 8 p.m and simply crossed the street to get to the restaurant. How convenient.
We ordered martinis (I know I know – we didnt have wine) to start off the evening. Then we proceeded to have our main dishes. I ordered a pasta dish that was pretty extremely tasty. i.e the plate was white when it was returned to the kitchen. Specifically I ordered the Upper Canada Ricotta Agnolotti. Described in the menu as "baby spinach and ricotta, winter squash puree, toasted pumpkin seeds and chardonnay foam.
Of course, we ordered another round of martinis to enjoy while we ate our dinner. (I know I know – we didn't have wine)
Monday was my actual birthday – so we started it off in style with a gorgeous breakfast that we really really enjoyed.  Not that we needed it cause we were still full from the nite before, but we both managed. How could we say no?
We were super impressed with this plate of goodies as well.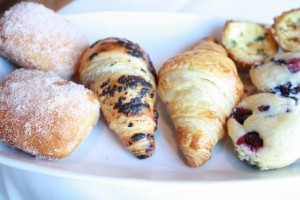 Then we took a drive into Niagara on the Lake (about 15 minutes away) for a brief stroll downtown and then stopped off at Stratus Winery on the way back to the 401. If you haven't visited this winery, you really should. I finally got to meet the charming marketing manager that helped me run a contest TWO years ago. I was too full to sample a flight of wines but my BF certainly enjoyed the Malbec.
One final note: Special thanks to my BF who made sure my birthday was extra special this year.
For more info:
Inn on the Twenty, 3845 Main Street, Jordan Village 1 -800 701 8074
Jordan House: 2751 Main St, Jordan Village
Stratus Wines: 2059 Niagara Stone Road, Niagara on the Lake