As I was running the Toronto Half Marathon, I couldn't help but notice (when I wasn't staring at the pavement), that everything was a spectacular color of green. The trees, the shrubs, the grass…do you know what I mean? It really is pretty out there at the moment.
Looking at all those shades of green for over 2 hours, made me want to make something green. So I did.
Here's a quick and easy recipe for Pea and Basil Soup that I found on the the Food Network website.
2 tablespoons olive oil
1 tablespoon butter
1 small onion, diced
1 clove garlic, minced
1 tsp salt
1/2 tsp freshly ground pepper
4 1/2 cups frozen peas
3/4 cup chopped basil leaves
2 cups chicken broth (I used  1 cup fresh vegetable stock and 1 cup water)
2 cups cream (I chose not to add cream seeing as I'm lactose intolerant)
4-6 very thin slices of fresh mozzarella cheese (oops didnt have this on hand)
1/4 cups diced roasted red bell peppers (jarred is fine…oops didnt have this either).
Directions:
Place a medium soup pot over medium heat. Add the olive oil, butter, onions, garlic, salt and pepper.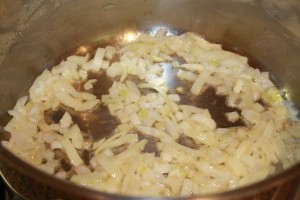 Cook until the onions are soft and translucent, about 5 minutes. Add the peas and basil and heat until the peas are thawed.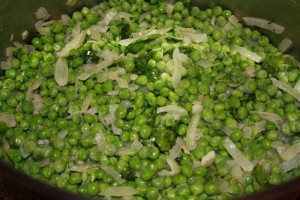 Place the pea mixture in a blender. (I used a Cuisinart). Add one cup of the chicken broth and pulse until pureed, adding more broth if necessary.
Return the pureed mixture to the pot. Stir in the remaining chicken broth and cream. Return the pan to pan medium heat and cook until hot but not boiling. Garnish with mozarella and the roasted red peppers. (I chose to eliminate this step).
I love soups that are vibrant green (like this soup) to serve in the spring or the summer.
I bet it would be delicious served cold too.
Are you cooking green foods at the moments? fiddle heads perhaps? or asparagus? Do share.
Disclosure: I am part of the Life Made Delicious Connector Program and I receive special perks as part of the affiliation with this group. The opinion on this blog our my own.