Friday night dinner is a big deal in Jewish households. Not all households have this tradition but I grew up where Friday night dinner was important, and this tradition continues.
It's also a great way to entertain. I realize I could entertain and host a Sunday brunch or have people over on a  Saturday night, but some traditions are hard to break!!
This week, my guests will be served the following:
-Challah (frozen then baked)
-Gazpacho (courtesy of Moosewood Original Cookbook)
-Pissaladiere (courtesy of New Recipes from Moosewood)
-Pebre (courtesy of Sundays at Moosewood)
-Pita Chips (courtesy of watching my mom make them for decades!)
-Brocoli crunch salad (courtesy of 101 Cookbooks)
-Yellow Bean Salad (courtesy of 101 Cookbooks)
-Strawberry Rhubarb Crisp (courtesy of the Toronto Star).
It's kind of a "Spring" menu – even if it's not officially Spring yet!
In this blog post, I'm going to share the Pebre recipe which is also known as Salsa de Ciliantro! This is what you need: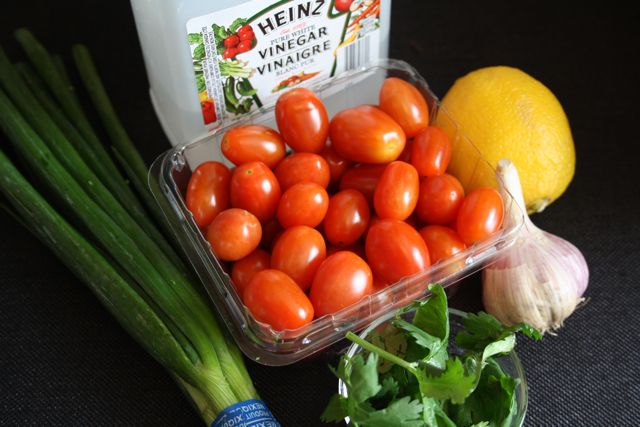 Ingredients:
1/2 cup minced onion or scallions
1/2 cup finely chopped fresh cilantro
4 medium field tomatoes, chopped
2 tablespoons of Tobasco or another hot sauce
2 tablespoons vegetable oil
1 tablespoon vinegar
1 tablespoon fresh lemon juice
1 garlic clove, pressed or minced
salt and pepper to taste
Directions:
Mix all of the ingredients together in a medium bowl and refrigerate.
Final Result: