This is what's in the liquor cabinet. Not bad eh?
As you know, I am a huge scotch and beer fan. However every once in a while, I really crave a cocktail. Yesterday was one of those days. But sadly I have NO clue how to make one. So I googled a recipe, watched a video and minutes later I was chopping up watermelon to make my first ever watermelon martini. I feel so grown up!
A few years ago, my dinner guests asked "what should I bring". I told them "bring everything you need to make a mojito – we never serve cocktails EVER". He came with a huge bag full of EVERYTHING one would need to make a mojito. It was perfect and I was in awe.
OK back to the watermelon martini. This is how I made it.
a) blend watermelon in a mixer (I added a touch of lime juice too – a touch)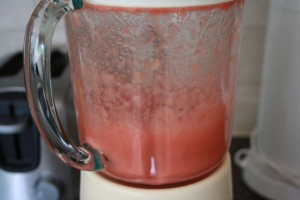 b) add vodka..I used some good organic Prairie  Organic Vodka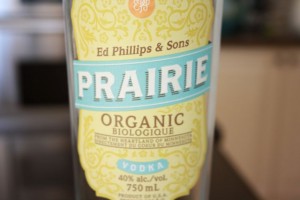 c) shake with lots and lots and lots of ice. Don't you love my fancy shaker?
c) strain into a martini glass and garnish with fresh mint.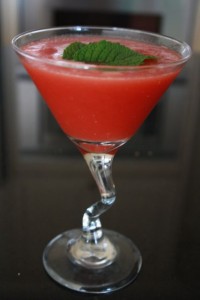 Please share your favorite cocktail recipes with me. I have till July 24th to enjoy a few cocktails before DD (darling daughter) comes back from camp.