Collingwood is one of my favorite places to visit.  Here's a few reasons why:
1.  The Westin Trillium House: For the last 10 years, I have preferred to stay at a Westin Hotel.  Probably because of their Heavenly Bed! Infact  I was given a Heavenly Bed as a gift about 8 years ago. ( the mattress and the box spring). Besides the Heavenly Bed…I'm also a huge fan of their customer service, the over all feel of each property and those little "things" that make a difference. Remind me to share with you the collection of ducks I have from another Westin hotel.
2.  The Plunge Aquatic Centre: Perfect for the inner kid in me that I got to unleash.
3  The Apple Pie Trail: For a Foodie like me, this activity is ideal!  We visited a few bakeries on Monday morning in Meaford and Thornbury! Not a bad way to spend your morning.
4.  Blue Mountain Activity Central; We loved the friendly staff (ie Barb) who set us up on bikes so we could bike along the Georgian Trail with the intention of getting to the beach. This was a great idea and way more fun than taking the car.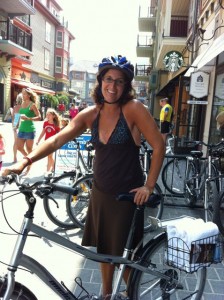 5. The Gondola Ride: Nothing beats a quick ride up Blue Mountain so that we could enjoy a picnic lunch and a small hike.
6. Ridge Runner: My BF had so much fun on this ride that he did it twice!!
7.  Maple Syrup: Everytime I visit Collingwood I have to stop at this store to enjoy this treat. It reminds me of my childhood and always brings back great memories.
8. The fact that we didn't have to use our car to go anywhere….all our needs were met right in the Village. Sweet.
9.  I also love the fact that Blue Mountain is a 4 season resort and can be enjoyed in ANY season. I've visited during the Spring, Summer, and Winter but have yet to go there during the Fall. Hmm…something for me to put on my to-do list!!
10. Collingwood is small enough but has all the right amenities. This means, that there is plenty to do if the weather is less than perfect…bowling, movie theatres, shopping etc.
10. Georgian Bay: the beach that we went to was absolutely stunning, with clear warm water! I was a happy camper. Speaking of camping, we stopped by the Craigleith Provincial Park to get some info about camping there in 2013. Nothing like planning ahead, right?
Clearly I think Collingwood is an ideal vacation spot.  I really hope you get to visit soon. You won't regret it.