I've just returned from my 7th visit to Las Vegas with my mom. Our trip includes a lot of suntanning (with sunscreen) and eating. Naturally I did a lot of research before our vacation started and made a point of researching restaurants that were OFF the strip. You see, a few years ago we learned that there's some amazing food to be found that's NOT on the Strip. Here's a list of the restaurants that we enjoyed that were just a short cab ride away from our hotel.
1. Night #1: Hot N Juicy Crawfish – we discovered this restaurant a few years ago and even though we try not to go back to the same restaurant twice….we decided that we HAD to go back to this restaurant. The seafood is beyond fresh and we love how your meal arrives to your table in a steaming hot plastic bag. Naturally plastic bibs and even plastic gloves are given out to guests. Not to mention…a roll of paper towels are on your table  as well.
Top Left: The meal arrives. See how happy we are? Top Right: What our table looks like AFTER our meal. Bottom: Love the fact that they have been on The Cooking Channel.
2. Night #2: Chada Thai & Wine. I discovered this restaurant after posting on Chowhound. I then read enough fabulous reviews on Yelp and Urbanspoon to know that we would definitely  be dining a this restaurant. We were NOT disappointed at all. I asked our amazing waiter (Bank) to assist us with selecting 4 dishes and he delivered 4 perfect items. The food was fresh, flavorful and light. My mom and I were beyond happy.
Top Right: Pad Hed (Shitake and Shimeji mushrooms stir fried with brussels sprouts and lotus root). Bottom Left: Yum Kai Nok Kata (Fried Quail eggs topped with dry shrimp, cilantro, onion. Spicy lime dressing). Bottom Right: Pla Nua Tod (crispy beef tossed with rice powder, spicy tamarind sauce, onion and mint, served with fresh cabbage).
Not kidding: I would order all of these dishes again in a heart beat.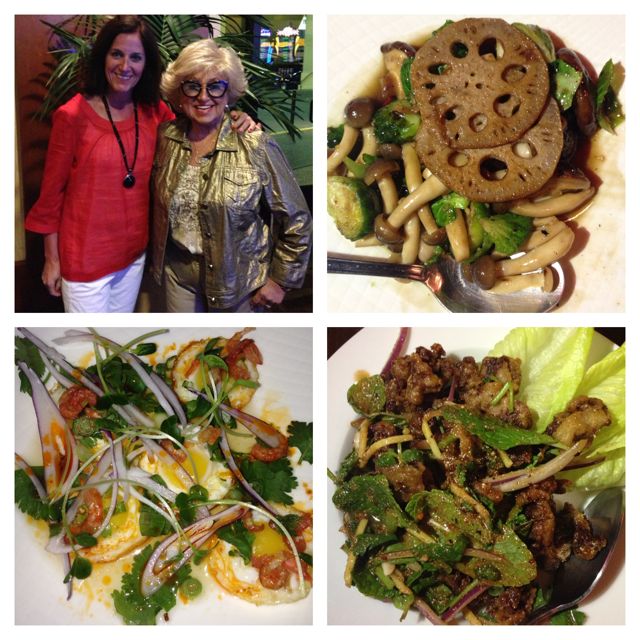 Save room for dessert!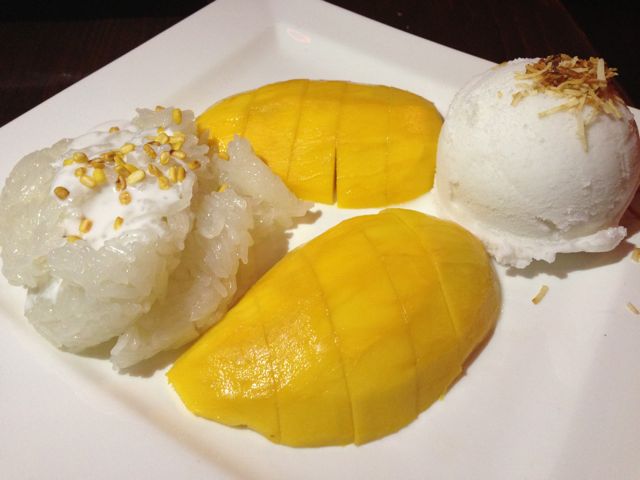 Night #3: In – N – Out Burger. I don't know where to start to describe this burger. Let's just say it's perfect and this restaurant makes me happy (just like the song…sorry, couldn't resist). In-N-Out Burger has never chnaged their menu and there is a reason why they haven't changed it. THERE IS NO NEED. Sadly I forgot to order the Animal Style French Fries which is on a "secret menu" and was kicking myself. #nexttime.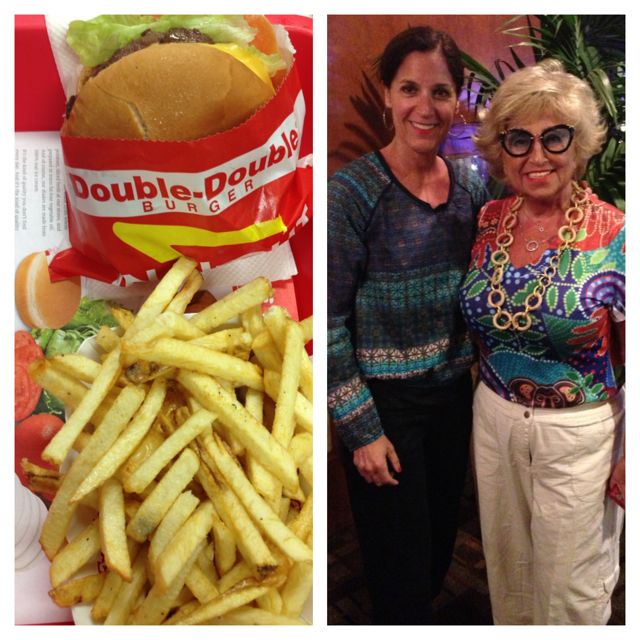 I also discovered a restaurant called Eat which is only open from 8 to 3 during the week and on weekends from 8 to 2 pm. The reviews I read were outstanding so off we went on a cloudy day for lunch. Even though I love sitting in the sun, I was thrilled that we had this day to discover this restaurant and go shopping!!
Top Right: Cinnamon Biscuits with warm strawberry compote Bottom Left: Green Chili Chicken Posole Bottom Right:Truffled Egg Sandwich.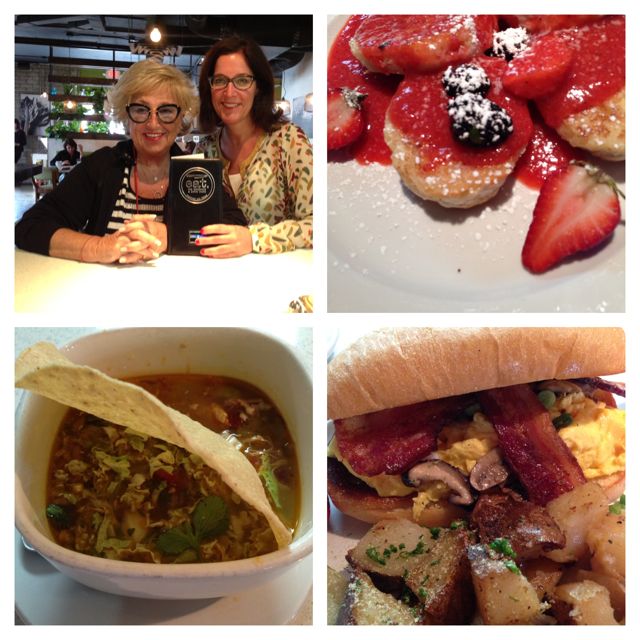 On our last night: We celebrated the end of another mother/daughter Vegas trip with our usual jello shots from Fat Tuesday & Chippery inside Caesars Palace. We've been going to this little gem of a spot for 6 years to enjoy this $2 treat. LOL.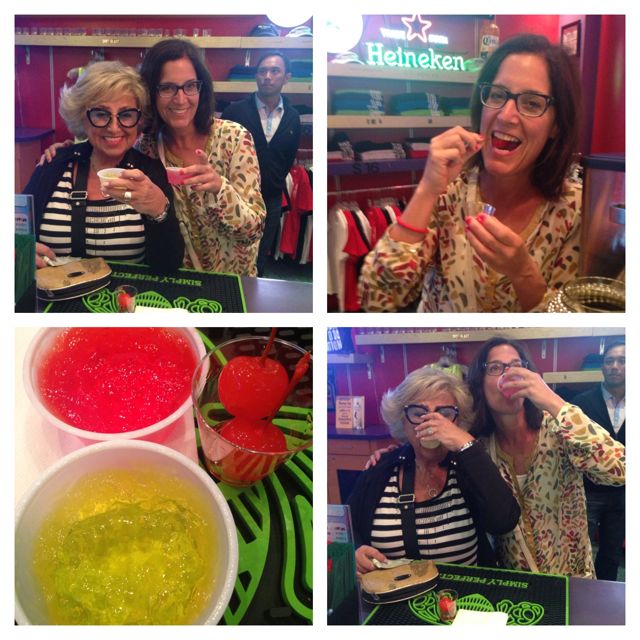 As you can see, I had another amazing trip with my mom and would like to thank her for this perfect birthday gift. I'm so lucky have a mom who also loves to travel, sit in the sun and eat good food. I'm already looking forward to spending my birthday with her next year in Vegas!!
For more information:
Hot 'N Juicy Crawfish 4810 Spring Mountain Road, Las Vegas,  702 891 8889
Chada Thai and Wine  3400 S Jones Blvd. Las Vegas, 702 641 1345 (reservations recommended)
In-N-Out Burger (2 locations in Las Vegas)…4888 Dean Martin Drive or 2900 W. Sahara Ave.
Eat 707 Carson St. Las Vegas (702) 534 1515
Fat Tuesday & Chippery: Forum Shops at  Caesars Palace, 3500 Las Vegas Blvd., Las Vegas.