I have a soft spot for Avenue Road as I once owned a store on that street for 3 years. During those years, I was by myself in the store and I have to admit that I rarely had time to get to know the other stores/restaurants on that street. However I have been making up for lost time!!
This is what I've discovered in the last few months:
Cafe St. Germain:
In the last few weeks a new coffee shop has opened and I immediately went to check it out (with my coffee friend – of course). When you walk in you are immediately struck with the attention to detail that has gone into the space. I simply love the decor. It's black/white and red and extremely "bistro-like". You will notice an immediate difference when you walk in, that this isn't a typical coffee shop.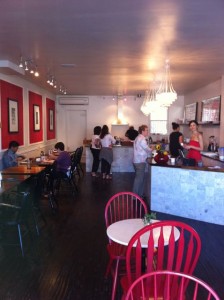 I particularly love this display of antique spoons on the wall. Simple but so effective!!
Cafe St. Germain – 1767 Avenue Road
LaBamboche – New Item: Chocolate Banana Croissant
Generally, I enjoy more savory food items than baked goods but I could not resist this combination: Chocolate + Banana + Croissant. How genius!! I love it.
I asked them to cut it up into 3 pieces for me so that I could share it. I'm not sure this ever happened!! It was DELICIOUS. Beyond Delicious. I know I will be back for another one, even if if my waistline tells me not to!!
Congratulations LaBamboche for introducing this item on your menu.
La Bamboche – 1712 Avenue Road
The Copper Chimney:
I had been reading reviews on www.chowhound.com about this restaurant that I PASS ALL THE TIME, and the reviews were glowing. One day I finally went there and tried a few veggie options and indeed the reviews were correct.
This is not your typical India restaurant at all!! I really need go back and do a full review. Stay tuned. In the meantime, this restaurant should be on your radar in the event you are looking for Indian food.
The Copper Chimney – 2050 Avenue Road
This fro-yo concept opened a few months ago and has been a HUGE hit in the neighborhood. The space is  bright and friendly and the flavors are fantastic.
I'm a fan of these two flavors. Need I say more?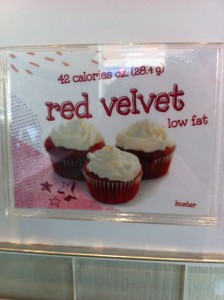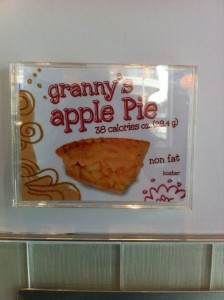 Hope you get a chance to visit Avenue Road one day soon!!