I visit my parents every 6-8 weeks in Ottawa and every time I visit I continue to discover great food. Sometimes I even divert from food and stumble across something else. (keep reading).
Last weekend my visit was really really quick i.e I arrived on Friday at 4 p.m. and left on Sunday at 11. No time for a tweet up – however I did have a bit of time to have a coffee with two food bloggers…@AMWATERS in the morning and @FoodiePrints in the afternoon. There is no question that every minute I am in Ottawa  – is a productive minute. LOL
@AMWATERS (who has a great blog – If Music is The Food of Love, Play On) suggested we meet at Le Michel-Ange, Coffee-Warehouse-Roasting. Thankfully I had GPS to find it – as it's tucked away in the middle of nowhere. But oh-what-a-gem of a spot. I really really liked the atmosphere…cool art, bean bag chairs, interesting nooks and crannys, comfy couches etc. As for the coffee – I am always too busy chatting to notice if my latte was good or not. I even ordered a pumpkin truffle  (made by Clove Chocolatiers) as I'm sure I never had this flavor before. It was a perfect breakfast – coffee and a truffle combined with a discussion about FOOD.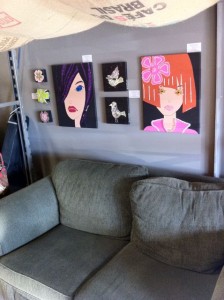 In the afternoon I met @FoodiePrints (who also has a great blog called FoodiePrints) at Planet Coffee in the  Byward Market. I have been there once before and I'm always impressed how busy this place is and the size of their baked goods in their display.
On Sunday, I ran to Rideau Bakery to get fresh rye bread. (3 loaves – thank you very much). On my last visit I only bought one and when I got back to Toronto and had a slice, I said "what was I thinking only to get one loaf?". Here's some history on Rideau Bakery. It's a 80 year old, family run – kosher bakery and their rye bread is the BEST. Really – the best. When I got home, I popped it into the freezer so I can enjoy a slice (or two) every week for weeks!!
Then I ran to the Landsdowne Farmers Market. I had never been when the market is indoors and I was thrilled that I went. The building is BEAUTIFUL and the market has some new winter vendors that's not there in the summer.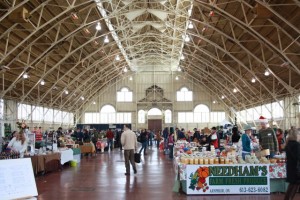 I stumbled across Egyptian Onions. Never seen this before, have you?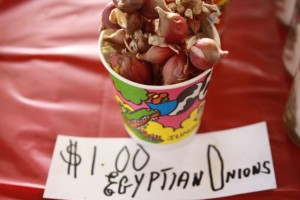 In between running to visit my dad, having coffee, visiting relatives…I also took a minute to visit a new Art Gallery that recently opened in Westboro called Michael Gennis Gallery.
I am so glad I dropped by. The art is stunning, the space is stunning and to be honest,…there isn't much not to like. Michael Gennis (who own the Gallery) was a neighbor that I havent seen in decades so it was a real treat to see beautiful art as well as catch up with an old neighbor.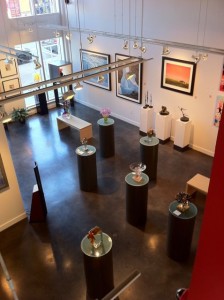 I ended off the trip with a taste of Saskatoon Berry Pie from Farm Boy. Not a bad way to end a great weekend in Ottawa.