As you know, I'm a food sales rep and every day I visit 10 (or more) grocery stores. However I am genuinely interested in grocery stores and will drive 1.5 hours on a a regular basis to visit Tops and Wegmans in Buffalo. I'd rather go to a grocery store than to the outlet mall. Go figger.
As a result of my passion for food (and grocery stores)..I was thrilled to be invited to a food bloggers media tour when Loblaws at Maple Leaf Gardens opened.
Here's a list of reasons why you should visit this Loblaws:
1) IT'S ENORMOUS. You have never seen anything a grocery store this SIZE before. Ever.  It's 85,000 square feet. …yes, 85,000 square feet.
2) They have supported local businesses. I love the fact that ACE Bakery is right there baking from scratch every day. Tea Emporium is also there with tea experts to help you pick the just the right tea.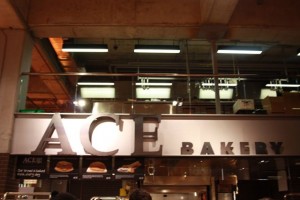 3) There is a wall of cheese. That's right – an 18 foot wall of cheese.  This store carries more than 400 varieties of cheese. Holy Cheese!!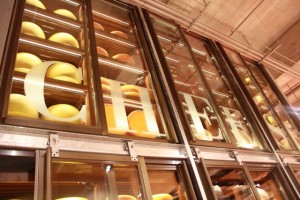 4) Joe Fresh has 8,500 square feet. OMG – heaven for people like me who love Joe Fresh.
5) T&T has a sushi bar there where customers can watch the sushi being made while sitting at the bar.
6) There is a huge commitment to organic fruits and vegetables as well as local produce (when available).
7) There is free WiFi
8. There is one hour of free parking with any purchase of $18 or more (before taxes)
9) There is an LCBO, and a Presidents Choice  Cooking School (which you can rent out for a private function).
10) The Sculpture: There is a 3 dimensional sculpture created from reclaimed stadium chairs in the shape of a Maple Leaf.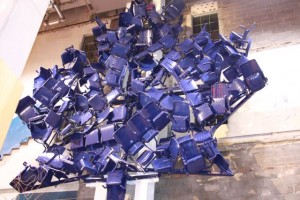 Hope you get a chance to visit this outstanding Loblaws one day soon. I'm sure you will leave impressed.
Loblaws at Maple Leaf Gardens
60 Carlton Street
(415) 593 6154
Hours: Monday – Sunday 7 a.m to 11 p.m