During the heat wave last week, I was determined to prepare an entire meal for guests without using the oven. Yay for me..I did it.
This is what I served:
1. Tuna Nicoise: lettuce, tuna,mushrooms, tomatoes, black olives, red pepper, yellow pepper and hard boiled eggs. (sorry no green beans as I'm on a carb free diet)
2. Asparagus: I also served an asparagus dish that I haven't made for years. All you have to do is steam the asparagus  and then make a marinade.(sauce?) Please forgive me as I don't have the exact measurements nor can I even remember which cookbook this recipe is from! (oh the joys of owning too many cookbooks).  Here's the best I can do: grated ginger, grated garlic, rice wine vinegar, tamari sauce, sesame oil, brown sugar, salt and peper. Does that help? Probably not…again, my apologies.
Steam the asparagus. Make the Marinade. Plate the Asparagus and then drizzle the marinade over it. Simple Stuff.
3. FISH:   I als0 served fish using a spice packet that I bought at Eat Sum More (7700 Bathurst St, Thornhill.  This unique retail store specializes in products from South Africa. I figured for $2.99 – it was worth trying. All I did was squeeze some lemon juice into the mixture and let the fish marinate in it for a few hours in the fridge.
After marinating the fish, I simply pan fried the fillets for a few minutes on each side.
4. Berries with Whipped Cream: I served a carb free dessert to my guest  However they didn't seem to mind being served an assortment of berries (blackberries, blueberries and raspberries) with whipped cream and some mint as a garnish. Do you like the cups? First time I used them.
As for drinks: I served a red sangria and a white sangria for my guests and I sipped Molson Canadian 67. This beer is SAVING ME. It's one thing to go carb free and it's another to go carb free during a HOT summer. A huge thanks to Molson for developing this beer.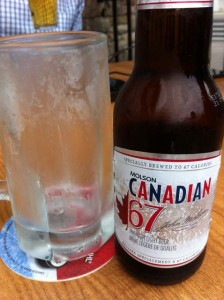 Mission Accomplished: I entertained without using an oven PLUS I stuck to my carb free diet. I'm on week 5 and so far so good.