Summer is almost over which is really really sad. However this recipe is going to make you smile. It's super easy to make (3 ingredients) and it's perfect for an after school snack!! (which is right around the corner for many of us)
However, you will need a lot of time. About 10 minutes to actually make the recipe and 5-6 hours to sit in your oven. You have now been officially warned!!
I hope you continue reading…..
As always, there's a story behind this recipe! I happen to have gone raspberry picking and then realized that I was too lazy to bake and had no room to store them in the freezer.
I headed over to Pinterest and entered the word "raspberries" into the search engine. A whole bunch of ideas came up but one in particular got my attention that was featured on a blog called www.liveeatlearn.com.
I wish there were more photos but I honestly didn't think it was going to turn out so I didn't take any photos while making it. #lessonlearned #bepositive.
3 Ingredient Fruit Leather Roll up (original recipe can be found here).
Ingredients:
3 cups

fruit (try raspberries, try this with mango, try it with blueberries…)

2-3

Tbsp

honey

can sub sugar or sugar-substitute

2

Tbsp

lemon juice (I didn't have any and it still worked out)
INSTRUCTIONS
Blend fruit in a fruit processor. Mix in sweetener and lemon juice. (simple eh?). It shouldn't be too thick or too thin.

Line a cookie sheet with plastic wrap (a good quality one).
Pour the pureed mixture into the pan lined with plastic wrap then spread out ⅛ to ¼ inch thick

In oven at 140 to 170 degrees F (60 to 75 degrees C, or as low as oven will go) for 5 to 6 hours, or until middle is not longer tacky.

Allow to cool, then remove from plastic wrap.

Use clean scissors, cut into 1 inch wide strips.

Wrap with strips of parchment or tissue paper, then use tape or string to seal. (I didn't do this step as it was so good that we ate all of it right away)
 Final Result: Pretty Cool eh?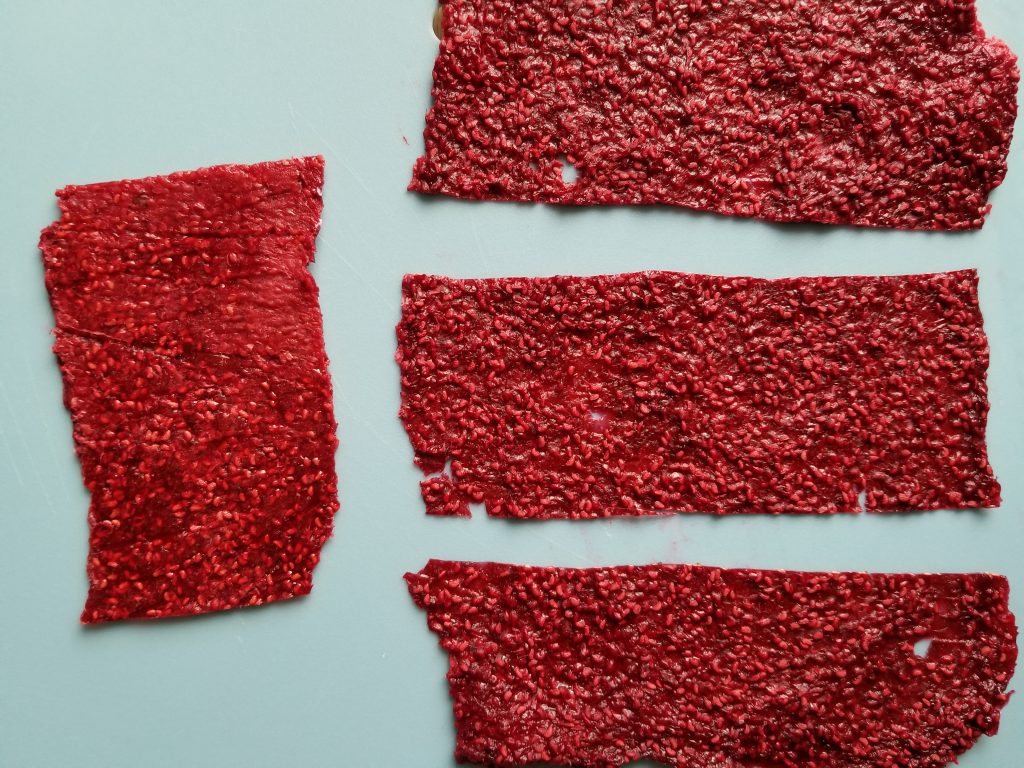 I can't wait to try this with the strawberries that are sitting in my freezer.
Happy Baking!!