Last week I was invited to attend the GE Cafe Chefs Series at Evergreen Brick Works. It took me less than 5 seconds to reply "please add my name to your guest list. I would be delighted to attend".
So what is the GE Cafe Series? It's a series of interactive workshops (from Jan 11 – May 17th on Tuesdays, bi-weekly) that brings you together with Ontario food growers, farmers, producers, chefs, writers, activists and restaurateurs. Basically….this means, that this is "totally up my alley"!!
I attended the first workshop of the series, which was called "Onwards to Prince Edward County" featuring Chef Jamie Kennedy (executive chef, Gilead Cafe & Bistro) and Rebecca LeHeup (executive director, Ontario Culinary Tourism Alliance)
Naturally I am eager to talk to you about what I ate that evening: So lets begin.
Passed Hors d'Ouevres
-marinated pickel roll up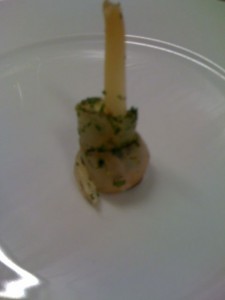 -curried sweet potato croquettes with raita
Menu
-sunchoke soup with chips
-yellow perch with hillier soubise and crunchy shallots
-potatoe gnocchi with root vegetables
-apple strudel with nutmeg ice cream and golden plum puree.
Every dish was superb..and every plate was returned clean. (always a good sign that your guests enjoyed their food).
Rebecca chatted with Chef as he presented each dish and we learned a lot about his suppliers and his fondness for Prince Edward County.
We were also treated to several (I lost count) glasses of wine from Rosehall Run Vineyards. Dan Sullivan explained each wine as they were being poured and again we learned more about the grapes, the region, etc.
The three hours zipped by as we were always busy – eating, listening, drinking, and raising our hands with questions like "can we have the recipe.!!"
Evergreen Brick Works has a great line up of workshops in the future: Preserving, Cooking for Food Allergies, Heirloom Varieties and more. If you click on the the Evergreen website you will learn more details about this fantastic series.
Congratulations to everyone who organized this awesome workshop!!