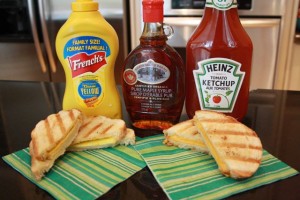 I think I was exposed to "condiment experimenting", when I went to overnight camp at the age of 9.
Seeing as the food was a bit bland, I noticed other campers using condiments to try and add some life to the food we were served. In particular I remember maple syrup being used as a dip for grilled cheese sandwiches.
Decades later, I am still adding condiments to some of my food!! No – I am not adding ketchup to my macaroni and cheese but I am still dipping grilled cheese into maple syrup or ketchup.
But my all time favorite condiment to go with grilled cheese is mustard!! That's right – mustard.
I also learned recently  that cheddar cheese goes well with mustard!!  For some reason, I have only used mozarella cheese. Oh how I love to learn.
Naturally I watched my kids come home from camp with new habits too. It seems as if Franks Hot Sauce is the condiment of choice these days!
Go Figger!!
My dad also introduced me to eating watermelon with a little salt. I then passed this little trick onto my kids as well.
So dear readers – tell me what combinations you are using these days to bring "out the flavor" of your favorite dishes.