Toronto Roller Derby: Real Women. Real Hits. Real Heart.
 I knew that Toronto Roller Derby existed (thanks to Twitter)  but what I didn't know is that between 300 and 1300 people show up to watch these amazing women compete!! This past Saturday night, I finally had a chance to  go to Downsview Park to watch LIVE Roller Derby! You see, back in the 1970's I remember watching it only on TV. It was pretty popular, back in the "day". LOL.
I watched the Bay Street Bruisers compete against Killamazoo and it was indeed entertaining. Way better than watching it on TV!! I would certainly go back.
The crowds (well part of the crowd)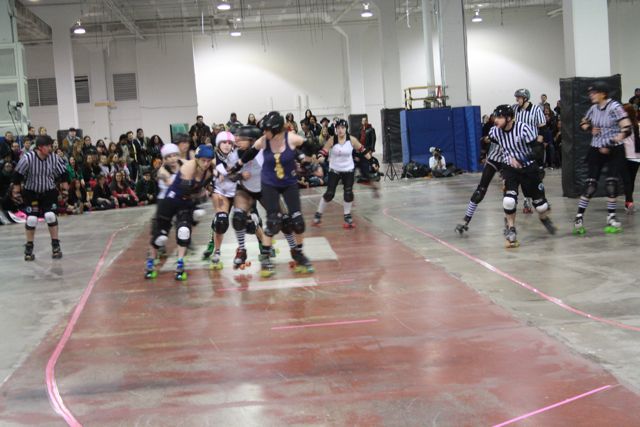 For More Information:
$12 in advance
$18 at the door
Twitter: @TOROLLERDERBY
Facebook: www.facebook.com/torontorollerderby (which has over 7,000 "likes" – impressive)
Tickets available; Rotate This, Skate Co., Noise, Soundscape, The Purple Purl, or online at TorotoRollerDerby.com
Season Calendar: March 2, March 23, April 13, May 11, May 25, June 15 (Championship),