I wrote a blog post entry in early December, called My Bucket List for 2012 ,and I'm pleased to announce that I can cross off one of the items. This week, I finally went to Scaramouche to try their famous coconut cream pie. Yay for Vicky!
I went with some twitter friends who are also foodies: @TorontoEats @candicebest @alyssaschwartz @nearafar. Turns out that  3 out of 5 of us, had not tried the coconut cream pie before. #interestingfact
Sadly I did not plan this evening very strategically as I had just had oral surgery at 3:30 and we were meeting at 630 p.m!! This means, that I could not enjoy  an appetizer or a main course or even a glass of wine, however I was permitted to eat coconut cream pie – seeing as it was a really soft food. Me. Smart.
The ever-so-professional, Dr. Jonathan Adam, who performed the procedure, knew that I was panicked about being able to eat the pie at 630 p.m. i.e would the freezing be gone? would I be able to chew? I had a few questions LOL. He was right – I managed a few forkfuls of the coconut cream pie with NO PROBLEM whats-so-ever. I practically shovelled it in. That's how good the pie was.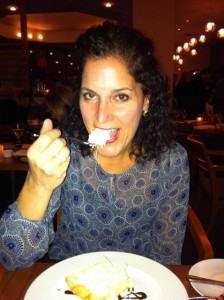 Now, there is more that I want to share with you about the coconut cream pie. Here's a cute story: When I was 13, I went to a camp called Wabikon (on Lake Temagami) and I had three great counsellors that year. One of those counsellors was Joanne Yolles. I had read a few years ago, that Joanne was a pastry chef who had created the EPIC COCONUT CREAM PIE AT SCARAMOUCHE. What a small world.
I wanted to track her down and sure enough one of my foodie friends connected the two of us. She was kind enough to meet  me last summer for a cup of coffee at Ezras Pound. I had not seen here in over 3 decades yet she looked exactly the same. Joanne walked me thru her career and I was just fascinated. What a career and what an incredible legacy she has created with this epic coconut cream pie that has been on the menu at Scaramouche for years and years and years and will continue to be on the menu for years and years and years.
Congratulations Joanne. You were a great camp counsellor and you are a phenomenal pastry chef.