This Mother's Day,  Rabba Fine Foods has joined up with OASIS to offer mothers (and their loved ones) an opportunity to win some exciting prizes – all for sharing #RabbaMomMoments on social media.
Sounds easy and sounds fun. True Story:  I recently participated in a contest at a trade show and I won!!
Entrants for this contest, are encouraged to showcase the realities of motherhood – happy, proud, silly, and even frustrating. Entrants who share their posts or tag three friends will receive an extra entry into the sweepstake for a possible total of three contest entries.
I can definitely show case the reality of motherhood and I bet you have a few stories to share as well.
Here's a "motherhood moment" – I'm proud that my kids have found jobs. It's not easy out there to find a job and I'm over the moon that both have found employment over the summer.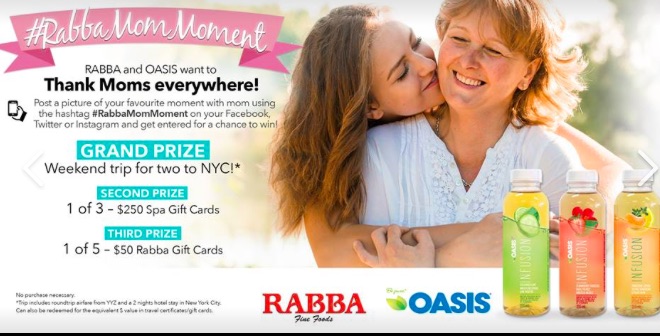 Here's another #RabbaMomMoment that I posted on Twitter: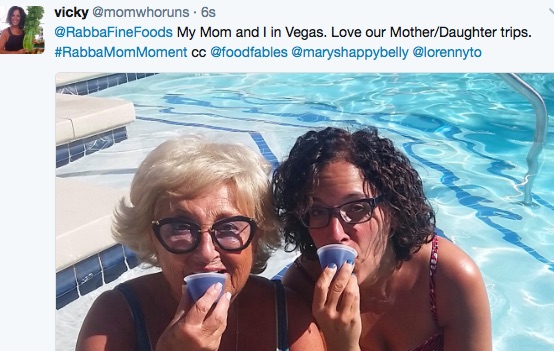 On Sunday May 14, winners will be announced on Rabba social media accounts. Prizes include:
· First place: a weekend trip for two to New York City including airfare and accommodations (1 winner / prize worth $1,500)
· Gift certificates to a day spa (3 winners / each certificate worth $250)
· Rabba $50 gift cards (5 winners)
Now that you have finished reading this blog post, I hope you pick up your smart phones and start to enter the contest.
Here's where to post your #RabbaMomMoment: 
Twitter: @RabbaFineFoods
Instagram; @RabbaFineFoods
Facebook: https://www.facebook.com/RabbaFineFoods/
GOOD LUCK AND HAVE A WONDERFUL MOTHERS DAY!!
Disclosure: I was compensated for this blog post however all opinions are my own.