I have been making this Crunchy Green Pea Salad for over a decade as it's easy to make and it's delicious too. (two main criteria for me).
Here's what you need:
Ingredients:
3 cups Green Giant Peas (thawed)
1 cup diced celery
1/2 cup diced red onion
bacon bits or salad toppings (more on this later)
Dressing: mix together 1/4 cup yogurt, 1/4 mayo, 2 tablespoons of vinegar and 2 tablespoons of sugar
Instructions: Mix the first three ingredients in a bowl. Prepare dressing. Before serving, add the dressing to the pea mixture. Sprinkle with bacon bits or salad toppings. Best served chilled.
I'm not a fan of bacon bits but a long time ago (too many years to count), I discoverd SALAD TOPPINGS in the States.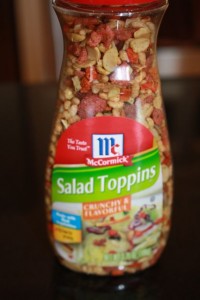 Hope you enjoy this crunchy pea salad as much as I do. Other favorite salads that I will post about shortly include: Pineapple Slaw, Indonesian Rice Salad and Tomato/Hearts of Palm Salad.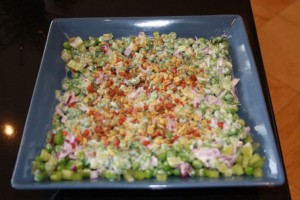 Disclosure: I am part of the Life Made Delicious Connector Program and I receive special perks as part of the affiliation with this group. The opinion on this blog our my own.