True story:
I was online searching for a new dessert recipe to try and came across a recipe called:  "Lemon Magic Cake".
I got all excited and starting grabbing the ingredients out of my fridge and pantry.
BUT I  then realized:
-I didn't have any lemons
-I couldn' find my whisk attachment for the KitchenAid
-I didn't read the recipe properly and kept the egg whites but threw out the yolks when I actually needed the egg yolks
-the recipe required an 8×8 pan and I didn't own one. (can you believe this?)
TOTAL FAIL. REPEAT…. TOTAL FAIL
I was so determined to make something new and returned to the internet in search of a new recipe to try. I came across a recipe for Date Squares which for some reason I've never made before.  I checked to see if I had ALL the ingredients and indeed I had everything. (sigh of relief). I even ran out to the dollar store to buy an 8×8 pan.
In no time at all, I made a delicious desert. Trust me, I will make it again.
Here's the recipe for Date Squares (taken from www.JoCooks.com)
For Filling
3 cups dates, pitted
1 cup water
1 tsp vanilla extract
For Crust
2 cups old fashioned rolled oats
1 cup all-purpose flour
¾ cup brown sugar
½ tsp baking soda
¼ tsp salt
⅛ tsp cinnamon
1 cup cold butter, cut into small cubes
INSTRUCTIONS
Preheat oven to 350 F degrees. Line a 9 inch baking pan with parchment paper. Set aside.
1. In a medium saucepan add the water and the dates and cook over medium heat for about 10 minutes, until there's no water left. Add the vanilla extract to the dates and mix well. Let mixture cool.
2. Add the date mixture to a food processor and pulse until it turns into a paste. Set aside.
3. In a food processor add the remaining dry ingredients and the butter cut into small pieces and pulse until the butter is well incorporated into the mixture and crumbles.
4. Spread ⅔ of the crumb mixture on the bottom of the prepared baking pan and spread it evenly.
5.  Add the date mixture and spread it with a spatula. Add the remaining crumb mixture as the last layer and pat it using a spatula, do not press down too hard.
6. Bake for 35 to 45 minutes until golden brown then let cool completely. Place in the fridge for a couple more hours then take it out and cut into squares.
FINAL PRODUCT.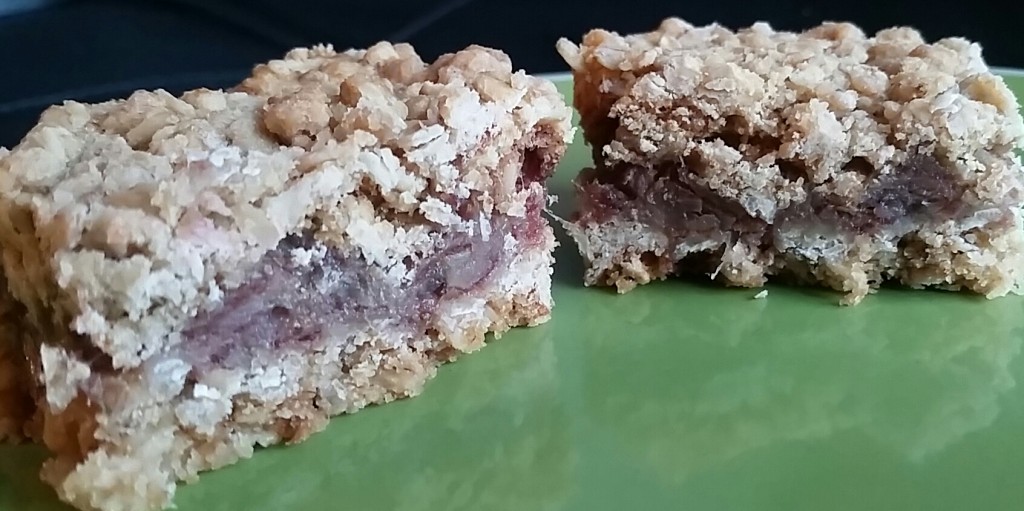 Happy Baking!